When we were younger, the summer holidays seemed to go on forever – but as parents, they ZOOM by. One minute the kids are running through the school gates ready for a summer of fun – and before you know it, you're frantically running around the shops looking for new uniform! We feel you.. and to make things easier, we've pulled together 3 stylish but not-to-be-forgotten essentials that'll have them feeling excited for a new term…
---
BACKPACKS
Firstly, let's talk backpacks! We don't know about you, but one thing we do remember from school is trying to cram far too much (textbooks, draft books, calculator, pencil case, packed lunch etc) into the cutest of handbags. Before long, the handle was hanging by a thread and we'd have safety pinned it back together, continuing to lug it around everywhere anyway. Probably NOT the most practical of choices..! Luckily, it's now officially COOL to be carrying a backpack – especially when it's from brands like Converse & Joules. Bags like these will make the kids feel GOOD about going to school – plus for us parents, we know the excellent quality means the chance of breakage (and therefore having to shell out for another bag) is minimal… winning!
SHOES
While it might not have been our favourite brand as kids,  no one can deny that where school shoes are concerned, Clarks come out top! As youngsters, we were fighting a losing battle with the 'I want to wear trainers' argument – and that's definitely been passed on through the generations. But now, whether it's a cute patent fringe Mary Jane, or simple slip on leather loafer; Clarks will take them from class to canteen and playground to park in scuff-ready shoes that last the distance.
OUTERWEAR
Last but certainly not least, coats. It might be hard to admit but summer is almost over and cooler weather IS on its way – (sorry..!) With many hours of playground chat to look forward to (after all, they've got a whole summer to catch up on!)… a warm coat is essential. Whether it's a puffa jacket from Joules, a waterproof wax OR wind-resistant quilted number from Barbour, they'll be swerving wet play and instead hitting the playground looking COOL and staying warm/dry in the process!
Inspired to get them back to school ready with essentials from their favourite brands? Shop the image below by hovering over the pic and get NEXT DAY delivery when you order by midnight! If you fancy some more browsing though – follow LabelOnline on Instagram and 'like' us on Facebook!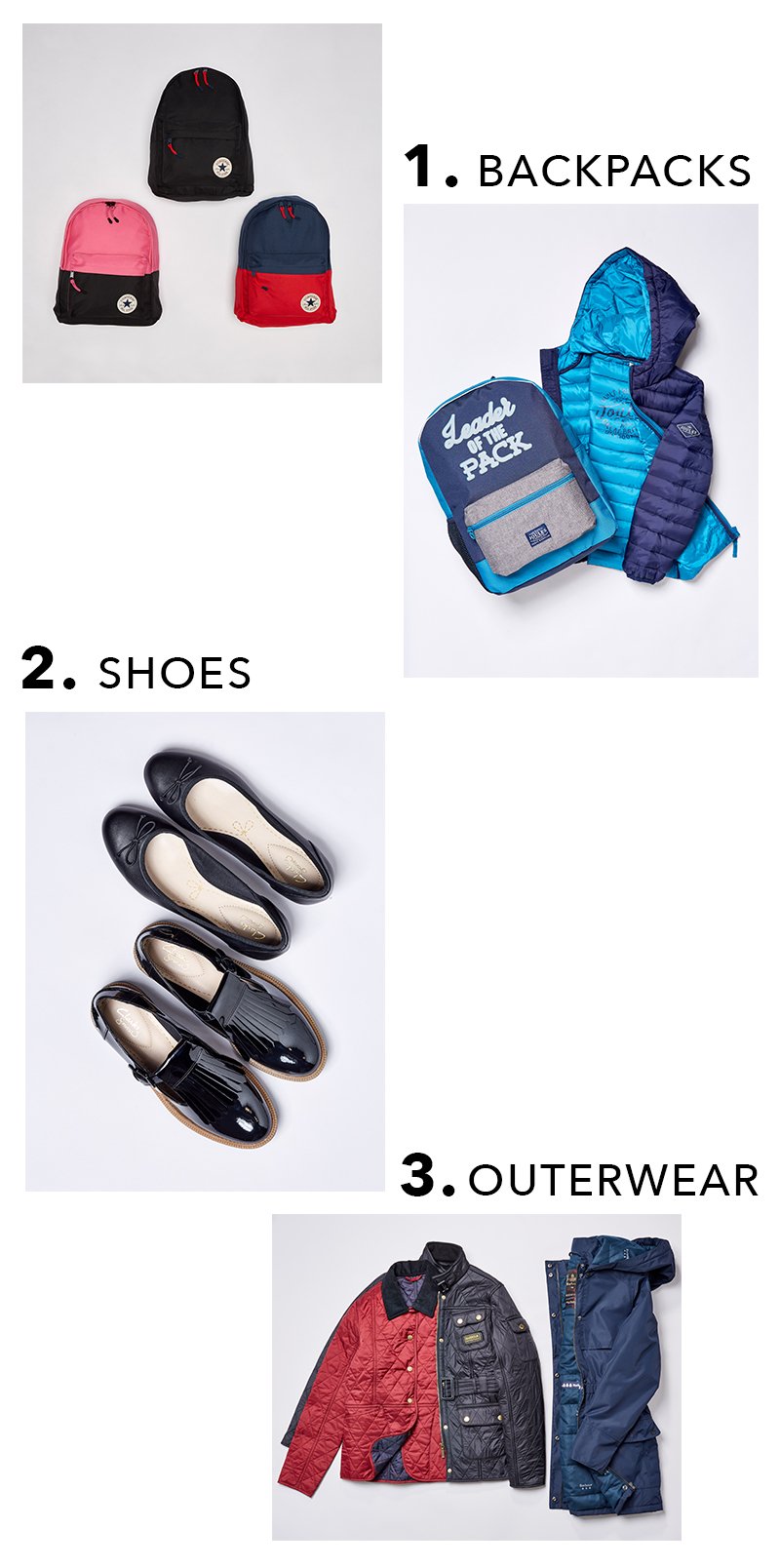 You might also like