Over the past year, we've seen a definite shift in interiors trends towards effortless, Scandinavian-style living. 'Hygge' – the word on everyone's lips last season, taught us mere (non-Scandinavian) mortals that there is in fact an art to living cosily. It's not about cluttering your home to increase its feel of warmth, it requires careful attention to detail …without going overboard on said details. Of course there are a plethora of sources from which to draw inspiration. Fashion bloggers-turned-interior gurus are all OVER Instagram – whether you're following Erica Davies' new home improvement mission or have been a long-standing fan of Kate Lavie's insane eye for, well… everything! But if there was a hard and fast way to instantly make your home more Instagrammable, we suggest you add these 5 products to your basket… keep scrolling for the lowdown.
---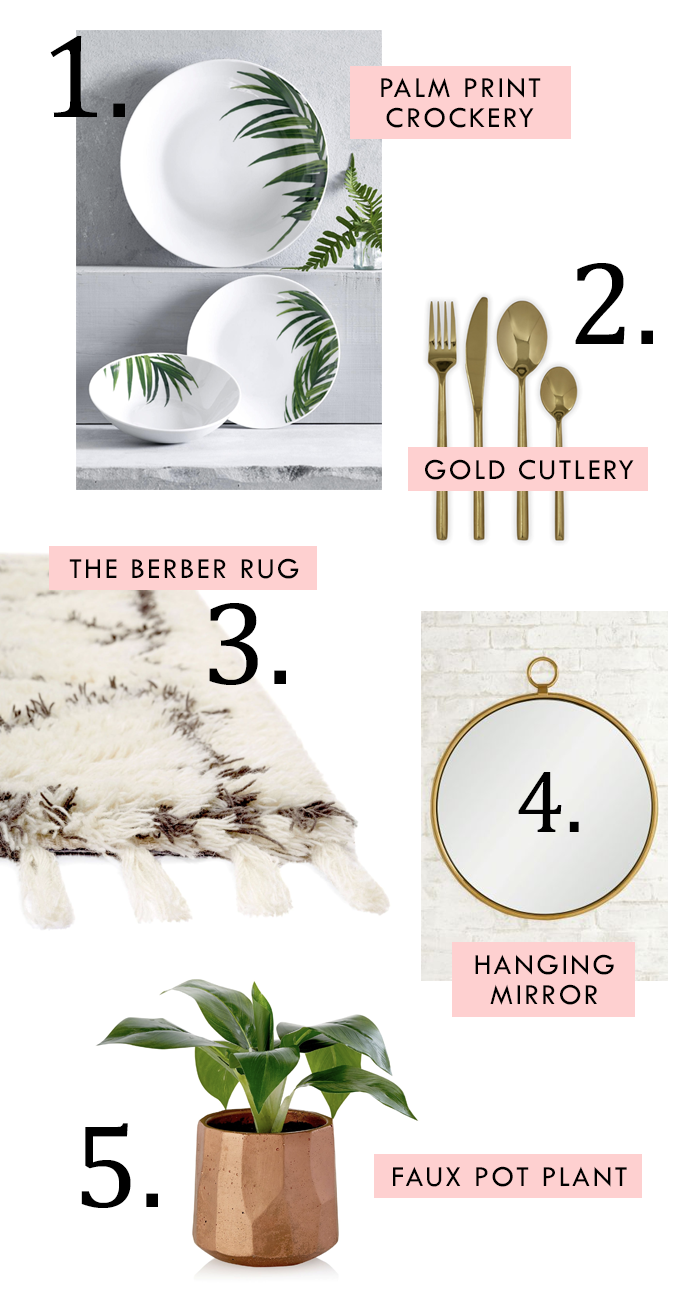 One: During the 80s and 90s, when cheese plants were ALL the rage – no one would've expected them to become immortalised on everything from wallpaper to crockery. Nor would anyone have imagined we'd be buying artificial versions (deemed necessary after repeat basil plant-related negligence). BUT we are – and quite frankly a house is not a home without some reference to Instagram's favourite plant.
Two: Impressing our guests is the number one priority when entertaining – and gold cutlery will always be a talking point, whether they think you've come into some money 😏 or are simply taking home décor very seriously. A welcome departure from the norm (read: silver cutlery) will afford you many a 'like' on Instagram, just remember to capture the moment when your table has been perfectly laid!
Three: Photogenic rugs are a blogger must-have and this Berber one has become somewhat of a status symbol. Delightfully Scandi, it provides just the right amount of cosy without – and here's the important part – detracting from the rest of your décor. Plus it provides the perfect spot for a #FWIS Insta-upload. Afterall, the interior is JUST as important as the clothes that feature in our #OOTD's now, don'tcha know?
Four: Mirrors play a huge part in documenting our daily outfits (orrrr for those who aren't into mirror-selfies, provide something in which to see what we're wearing), so why not make the mirror an attraction in itself? The one your Instagram feed needs is a hanging circular style. Granted you won't get a full length, but your followers will take note of your impeccable taste in decorative accessories…
Five: Following on from our palm leaf obsession, let it be known you can NEVER have too much greenery in your home – whether it's a giant floor plant or something all the more nimble like this faux pot plant. Creating synergy in your feed is essential for die-hard Instagrammers, but can be achieved effortlessly through repeatedly featuring a certain colour. Take green for example… dot some plants around the place and soon your grid will be the envy of all your followers…
Are you on a mission to make your home Instagrammable? Hover over the image above to shop straight from this post, or take a look at our homeware collections for some more inspiration. 
You might also like