Unless you've been living under a rock, or just haven't put two and two together when trawling Instagram – then you mightn't be aware that RED is this season's hottest hue. From all-red-everything ensembles to flashes of the siren shade via shoes and accessories, it's the colour on everyone's lips (literally). But if you have reservations about donning the people's preferred primary colour, then rest assured there are ways to wear it that don't require resembling a postbox. Here's 5 ways we recommend…
---
1. Arguably the nation's favourite print, stripes are a non committal way to embrace red. From Parisian chic to 'nauti-cool', a classic red and white stripe will offer endless outfit variations. Our favourite way to wear this top? Nonchalantly tucked into a denim skirt with Converse.
2. If a subtle nod is more in line with your take on this trend, then a hint of red via our tote bag will still afford you style points. Don't worry, head to toe immersion isn't essential for winning the affections of your most fashionable friend. A clever nod here and there demonstrates your measured approach to trend worship. Add this to your 9-5 wardrobe for a stylish switch up.
3. For those who deem red worthy of more than just a subtle nod but are still concerned about its potentially garish nature – you can find solace in the world of accessories. Be it a pair of must-have sock boots, a killer colour pop belt or statement Pom Pom earrings, passers by will acknowledge your interpretation of the trend. Try a couple of red pieces for more obvious effect.
4. Don't need us to tell you how to wear red? Then you're probably already donning an all-red ensemble, or at the very least – a statement piece! If we're preaching to the converted, get this bouclé coat in your outerwear arsenal ASAP!
5. Finally, if you've got the boots, the bags and the belts – don't forget a lick of pillarbox red lippy! An essential shade in ALL cosmetics bags – this one is going to give you a velvety matte finish without drying. Trust us, we've got one in every colour…!
If red is on your radar, we hope you're fans of our 5 ways to wear it! Let us know if we've converted you or if you've been championing it for years by getting in touch on twitter @nextofficial! Don't forget you can hover over the image below to shop straight from this post – and get next day delivery when you order by midnight!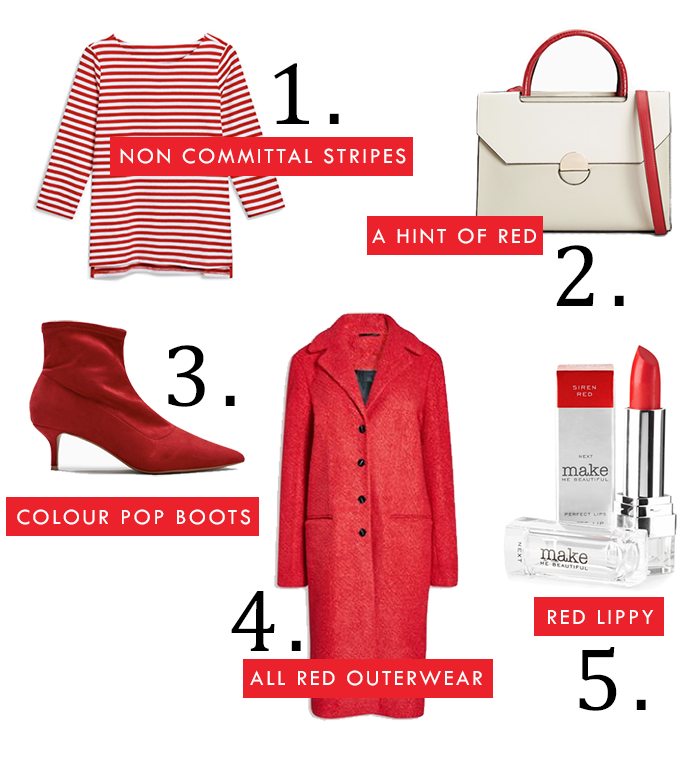 You might also like