Despite new year being our time to hit 'refresh' and enter a new chapter, being plunged into a month with a significant lack of parties, festive cheer and seconds at dinner makes for rather a depressing time. So, to counteract any feelings of sadness, we're using retail therapy to get us back in gear and excited for what's to come in spring…
---
T H E  S L O G A N  S W E A T E R > Dressing yourself happy is the best way to approach the doom and gloom of January. Colour is key but we're going one step further with a slogan we hope will influence our day. This Funday sweater shouldn't just be the reserve of weekends, why not bring fun to your 9-5 by teaming with a midi skirt and heels? Or take note from Emma Willis and wear knitwear with relaxed tailoring.
T A N  A N K L E  B O O T S > Transitioning to spring involves lightening up our wardrobes. Where our trusty black boots have seen many an outing during winter, opting for tan in the coming months will give a softer feel to an outfit. Even if you can't bear to part with your black dress or skinny jeans, tan footwear makes for a chic upgrade.
P R I N T  S H I R T  D R E S S > Talking of black dresses, one way to tempt yourself towards colour is through print – and what's more spring-appropriate than palms and florals? The three-quarter sleeves and midi length of this shirt dress is a smart choice whilst we're between seasons. Wear it with tights and boots for now then switch up to bare legs, statement earrings and sandals once the mercury rises.
Scroll down to read more…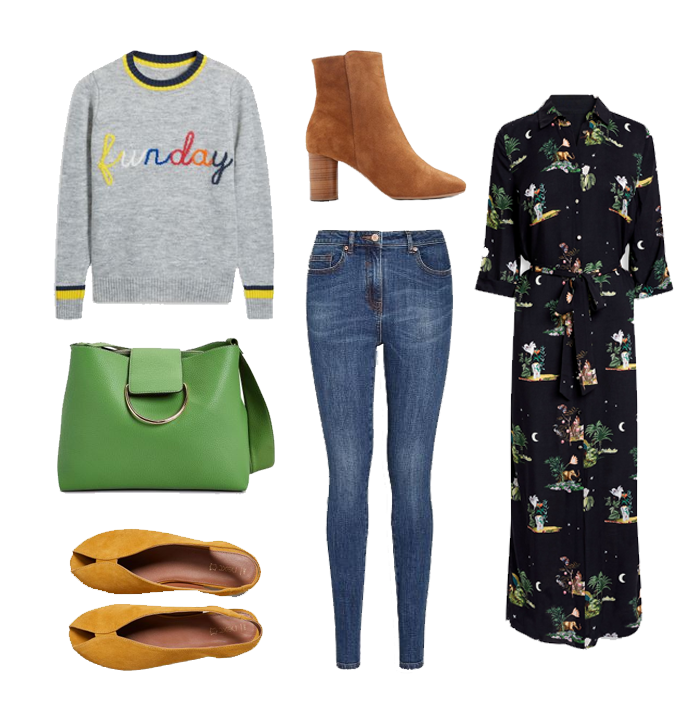 B L U E  D E N I M > If you've been living in your black skinnies, make the switch to blue. It's a simple swap but one that will feel infinitely fresher. True blue jeans goes with everything but we're choosing bold brights to really make the colour pop.
G R E E N  B A G > It might not be the first colour you'd reach for when it comes to everyday arm candy but we are obsessed with this bag. Much like red, it's a punchy addition to any outfit – think of it as an energiser! It best complements neutrals and navy, though don't rule out dusky pink…
O C H R E  S L I N G B A C K S > Similarly to the above, fun footwear can bring a fresh new feel to your outfit. Another popular colour this season is ochre, which, despite being yellow is actually a versatile shade – honestly! When it's warm enough to unleash your toes, some slingbacks like these will become an effortless go-to with jeans and dresses.
Will you be introducing more colour to your wardrobe this season? SHOP our new collections for more inspiration and don't forget to #ShareWithNext on Instagram with any snaps of your latest buys. 
You might also like