Are you on a mission to streamline your living space? Perhaps you're restricted by room size and would like to be more efficient with the space you're working with? We've devised 6 tips for small space living, from light coloured furniture to mobile shelving – read on for ways to transform your home!
---
1. E X P O S E D  L E G S
To create the illusion of more space, exposed legged furniture is a really good idea. Your eye line is drawn to the space underneath the object as opposed to stopping at the base of it, and therefore makes the room feel larger. Opt for 'legged' sofas, occasional chairs, chests and coffee tables [note to hoarders: this additional space is not to be use a storage area – it defeats the object!].
2. W H I T E   B E D D I N G
When it comes to more cumbersome objects (such as a bed), the trick is to opt for something as light as possible – bed frame and bedding alike. But if you're not in the market for a new white bed frame, by overhauling your bedding to plain white will instantly make your room feel more spacious. If you're worried this is sounding a bit clinical, you can add as many tonal or colour pop accessories as you like to warm things up a bit!
3. R U G   Z O N I N G
You don't need a big room to take advantage of 'zoning', in fact it can be particularly useful for open plan spaces. Rugs are a great way to create an 'area', whether it's to establish the living space with comfy seating and a coffee table, or a place to study with a desk and shelving.
"Small spaces are likely to feel cosy by default so the trick is to maximise light"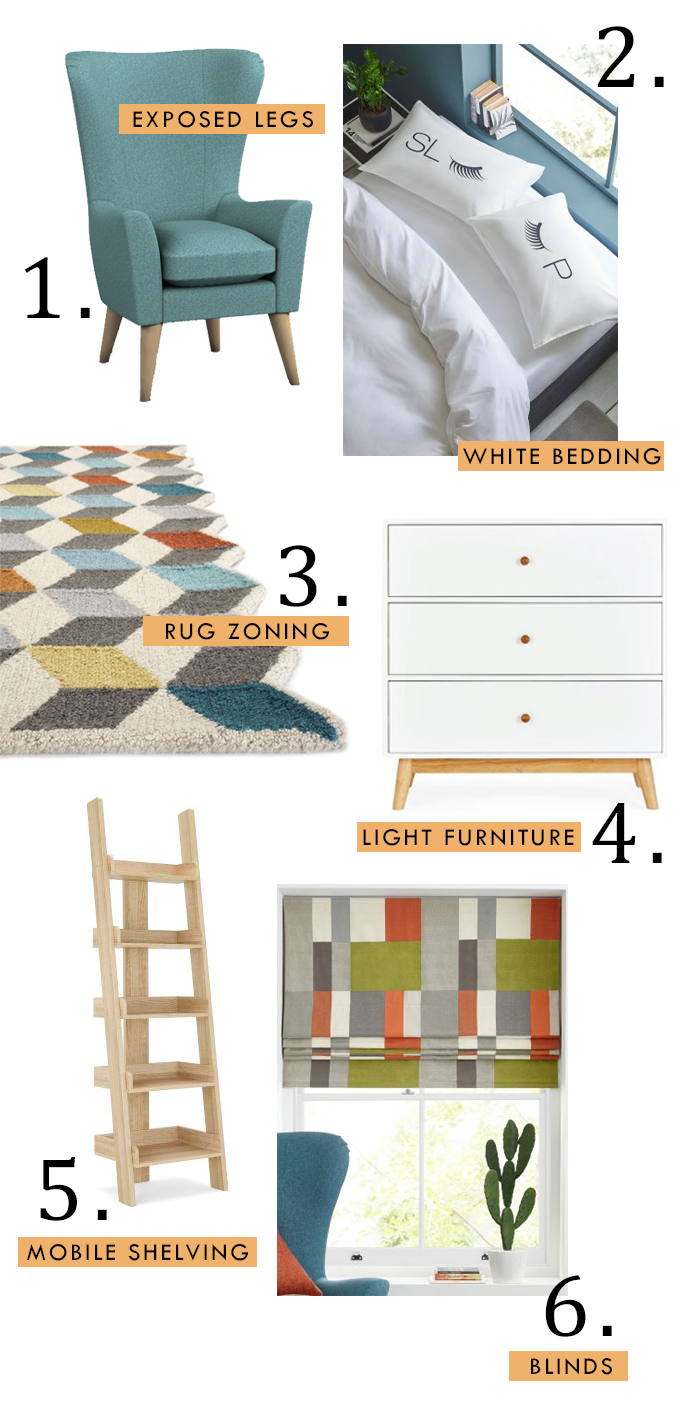 4. L I G H T  F U R N I T U R E
Small spaces are likely to feel cosy by default so the trick is to maximise light. White furniture will permit light to bounce around the room, so if it fits with your scheme – it's a no brainer. If you prefer natural or coloured furniture though, that's fine – just make sure your walls are light to counteract the narrowing effect.
5. M O B I L E  S H E L V I N G
Storage can be a tricky one to master when space is at a premium, so how about trying mobile shelving? As well as the ability to literally move it around the room (great if you're a fan of regular room reshuffles), it's open which, similar to exposed leg furniture, allows your eye line to be drawn to the wall or floor behind.
6. B L I N D S
Another quick win for creating the feeling of more space is to get rid of bulky curtains and instead replace them with streamlined blinds. You can choose from a plethora of different styles, from wood venetians to graphic print fabric options depending on what best suits your décor. By having a blind in-set (as opposed to covering the windowsill), you're creating more depth of field – as well as freeing up the space surrounding the window.
Are you short on space? Perhaps you have a box room that could do with a reshuffle? Follow these 6 steps and wait for the transformation to take place! You can shop our homeware collections here, or if you've spotted something you love above – hover over it to shop straight from the blog. 
You might also like