Does anyone else feel like they're hanging on for dear life as we speed towards Christmas? While it's obviously exciting, it's ever so slightly disconcerting at the same time. On the one hand, we love the buzz of the festive season, all the bright lights and socialising – but on the other, we find ourselves stressed at the prospect of finding that all important knock-out party look. So, in an effort to get our heads in the game we've started scrolling through Instagram and saving our fave celeb party ensembles, here are the highlights…
---
M I L L I E   M A C K I N T O S H
First up, is a lady whose style we seriously envy. Millie Mackintosh knows what suits her – there's no such thing as a questionable ensemble where her wardrobe is concerned. Getting dressed up is clearly something she does often – such is the celebrity life – but she's absolutely nailed it with this outfit. The cold shoulder maxi dress is the perfect mix of whimsical charm and after dark allure what with its feminine ruffle details and statement slit. She's opted for simple but sky-high platform shoes to add height and glamour to the outfit. Simple gold hoops and a loose pony complete Millie's signature cool-girl vibe.
G E T   T H E   L O O K

O L I V I A   P A L E R M O
It would be impossible to write a 'stylespo' post and not include Olivia Palermo. After all, dressing well is her forté. But when it comes to getting glammed up, it isn't always about finding the perfect LBD. Instead, follow Palermo's lead with a texture-rich tux jacket. Texture play is a subtle yet considered way to approach partywear, especially when it involves sumptuous velvet and barely-there mesh. She could have gone down the uber sexy route and opted for a bralette, but Palermo is more about fashion-forward pairings over revealing ones.
G E T    T H E    L O O K

M A Y A   J A M A
Taking a break from all-black-everything for a moment, let's soak up Maya Jama's party girl get-up. We're all over the colours and love how they complement her enviable skin tone. It's an unexpected colour combo for the festive season but we're all for recreating it. The silk pyjama-style shirt is sexy without being revealing, and the nonchalant knot-tie keeps things playful. Her 60s-esque skirt is something you could wear from pub to club and dial up or down for different occasions. The mini red bag loosely slung over her shoulder helps the piping on the blouse pop, pulling the look together effortlessly.
G E T   T H E   L O O K

C H L O E   L L O Y D
The final lady to pique our partywear interest is model and all-round hottie Chloe Lloyd. Yes, we've reverted back to black but we're obsessed with the rockstar vibes here. Generally, black is a no-brainer anyway – everyone feels confident wearing it, it's dressier than most colours and we can't argue with the fact it's slimming too. One thing that's worth noting when opting for all-black ensembles is that texture is key. Black can look very flat so we recommend investing in a faux fur jacket to help add volume to your go-to outfits. Chloe's also opted for some kick flare trousers which elongate her legs and balance out the top heaviness of the jacket.
G E T    T H E    L O O K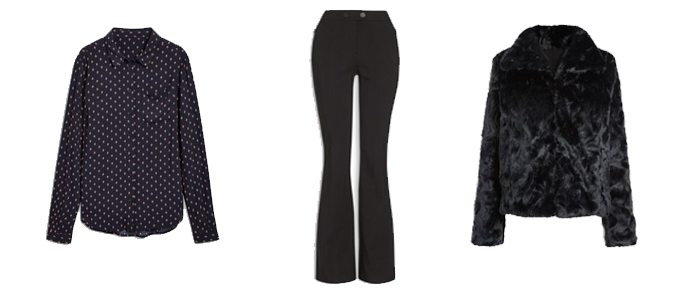 Are you feeling more inspired to find that all important outfit now? Hover over the images to shop straight from this post, or have a browse of our partywear collections. If you've left things to the last minute, don't worry! You can Order by Midnight for NEXT DAY delivery.
You might also like