Picking up new bits for our little ones is as much a hobby as a necessity for lots of us. A small change in anything from the weather to their height (as measured by the pencilled lines on the kitchen wall) is a welcome excuse for spending as much time as we possibly can deliberating over how awesome they'll look in… everything. This is especially enhanced whenever new collections launch, providing the motive and materials to set the shopping-for-others part of our brains alight. We wouldn't be fulfilling our role as your trusted purveyor of anything and everything if we weren't bringing you what you want, when you want it – so, starting with transitional dressing – here's a short intro into our newest knits
 for kids!
---
In the interest of time, here's three knits they need that are smart, cool and fun. For in-law visits, late summer weddings and those unnecessarily formal children's birthday parties that suddenly appear in the diary – we've got you covered. A fave of ours is this stain-hiding textured number that taps heavily into the slightly selfish 'dressing them like a mini you because it's adorable' school of thought. If fashion forwardness is what it's all about, for you or them, you've also got options that are above anything, cool. This hooded number is probably the best example as grey is cool, longline is cool, textures are cool, crossed neck hoods are cool and cool zip details are cool. For things they really want to wear, cranking up the fun factor is a great accelerator of the dressing process. Putting pretentions about Vogue-features and snooty relatives concerns aside, kids want things that they like and if they like things like monsters, smiley faces and cars then you're onto a winner with our knitwear. Tap the image below to shop!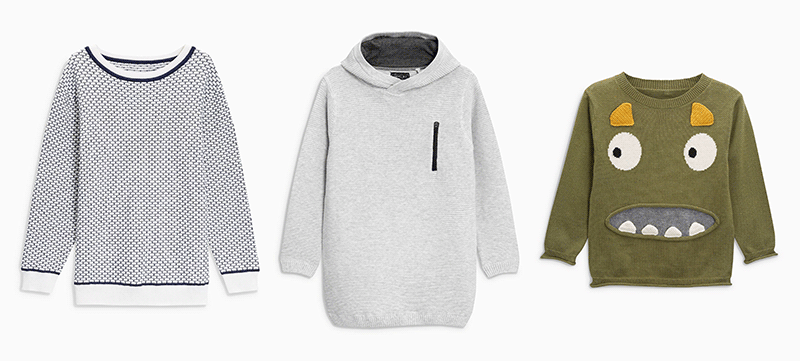 To see the FULL range of transitional knits available, head here and while away the seconds shopping until the next toddler tantrum, chocolate staining or grazed elbow occurs. Let us know @NextOfficial what you went for!
You might also like