Yay! You're moving in together! Now you've made that scary but exciting decision to live under one roof, you'll need to consider how to harmonise two potentially different design aesthetics. Us ladies enjoy our home comforts (and endless quantities of them) whereas men don't need as much 'stuff' to put their stamp on a place. As two worlds collide, it can be tricky to see past the amalgamation of furnishings each telling a different story. Somehow, you need to find the synergy to tie it all together so we've put together 5 tips to help you on your way…
---
1. Declutter
Before moving in, decide which items you absolutely can't live without. Moving house is a great excuse to get rid of items that have been gathering dust but ironically, when packing up our belongings – we tend to 'rediscover' items we've not seen for AGES! (Clothes are a nightmare for this…) If that's the case, think hard about whether or not you need something. The chances are, if it's been tidied away for months – you're not going to miss it. Be brutal. You need to make space for exciting new purchases.
2. Establish a combined theme
Rather than merging two distinct styles, it's much better to establish your own. Moving in together strengthens your relationship and by collaborating on a theme, the home will feel in equal parts yours. Sit down and discuss how you would like the place to look. Are there any colours you love that he hates? Perhaps you want the bedroom to feel like a peaceful retreat from the world – visualise what that looks like together. Once you've solidified the vibe, suggest some key pieces to anchor things around – then if you ever pick anything up individually – it's clear what's likely to go.
3. Be realistic
While it's soooo tempting to buy EVERYTHING you see on your first shopping trip, it's important to be realistic… Perhaps you're moving into a studio set up? Big, statement pieces will make it feel smaller. Equally, if you're moving somewhere with multiple bedrooms – don't splash out on ridiculous things if your funds need to last! Set yourself a list of priorities – if you've come from furnished/rented accommodation you'll need a bed ASAP, though it's often a good idea to get your basic decorating done before moving everything in. A blank canvas is much easier to work with!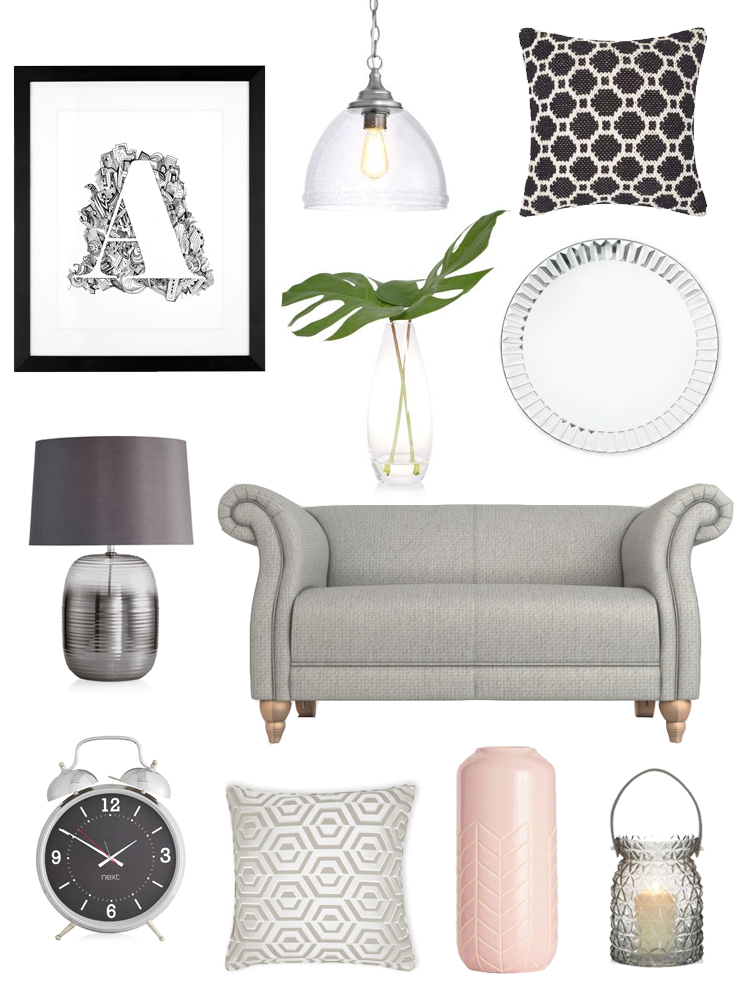 4. Consider your daily rituals
It might seem obvious, but what will you be using each room for (aside from sleeping in your bedroom and lounging in your living room)? Do you love early nights? Consider how much time you'll want to spend in your bedroom and how the decor affects the mood. Are you both partial to binge-watching TV series on Netflix? Then you might want to create a living room-come-home cinema?? (We're thinking L-shape sofa, big coffee table for ALL of the snacks etc). On the flip side, if he's an avid gamer or football fan, you should think about where your chill out zone is – whether it's next to him in front of the telly or in a cosy corner of your own.
5.  Investigate storage solutions
Moving in together is a big step so bickering is inevitable. It's especially tricky when your opinion of tidy is the opposite to your partner's. So to alleviate some of the stress, it's worth investigating useful storage solutions. Choose something that's easily accessible, that neither of you will mind using on a regular basis and agree to a certain level of tidiness throughout your home. Once expectations have been managed, you can hopefully avoid conflict around who's pile of washing has been abandoned on the sofa!
So those are our 5 tips for couples moving in together, we hope it was useful! Why not start that list of priorities? And check out our latest homeware collections…
You might also like