October is that time of year when winter really kicks in. The clocks change and it also marks one of our favourite dates in the calendar – Halloween! Do your kids enjoy dressing up? Are you planning to take them trick or treating? There are SO many fancy dress options out there, it's tricky (ahem) to know which to choose. But we're making things easy… we've selected some ghoulish pieces that have longevity, things the kids can wear long past the end of fright night…
---
While TV characters change (R.I.P Sabrina The Teenage Witch!) on the whole, things that people find scary tend to stay the same i.e. spiders, black cats, clowns (eww), vampires etc. So when it comes to dressing up, it's always possible to find something to go as. But what if you're not fussed about spending money on something the kids will only wear once a year? Nowadays, more and more people are opting to give non-scary things a sinister twist. You can do this by utilising existing pieces from your kids' wardrobes and going mad with make up and accessories to give the desired 'back from the dead' look. Easy! So have a raid of their wardrobes to see which pieces lend themselves to being transformed into Halloween characters, you'll be surprised what you find.
.
To give you an extra helping hand, we've pulled together an edit of our must-have Halloween buys – that the kids can carry on wearing waaaay beyond 31st October! Our ultimate favourite is this faux fur animal coat. Team it with our cat ear beanie, black jeans and chunky biker boots for some kick-ass edge! Use black eyeliner to give her the obligatory cat nose and whiskers too! Dungarees are a great layering piece which can be used to mimic the boiler suit synonymous with scary film characters. Just add a dark coloured coat and wellies! Of course if the kids HAVE to have a full fancy dress option, you could treat them to our dinosaur suit which can be recycled for birthday parties at the zoo, or for when the next Jurassic Park film is released… (there'll be another one, right?!).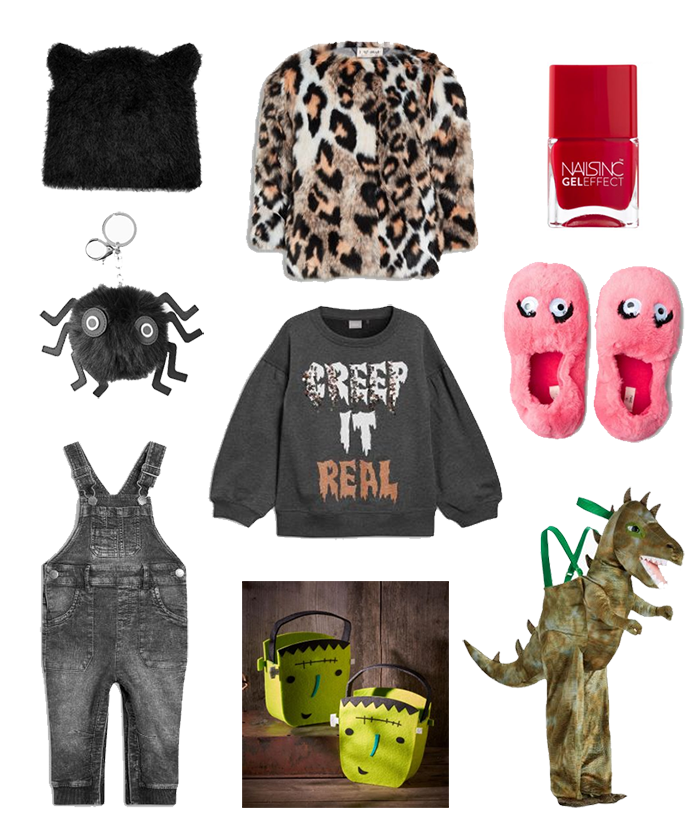 H A L L O W E E N   A C T I V I T I E S 
Now you've got the scarily-cute costume sorted, don't forget those gruesome awesome games to ensure the kids have a hair-raising time! Consider going on a woodland walk, whether it's day or dusk, each with a shockingly different experience. Get a mate to dress up and jump out from behind a tree for screams that'll be the talk of the playground for days to come afterwards. Or tell ghost stories as you walk through woodland, listening out for hooting owls, snapping twigs and rustling in the undergrowth. Can you spot any tree character-resembling silhouettes?
.
Staying in?  Get your potion making hat on and create some of these magical treats with the kids… (just prepare for a marathon clean-up operation afterwards…!)
.
Inspired? How are you planning to spend Halloween? Have you got THE cutest outfit for your littluns? Let us know your thoughts by tweeting us @nextofficial.
You might also like