Finding the perfect suit is no mean feat and with party season kicking off this month – we thought we'd call upon friend of ours, suit-lover and editor of That Dapper Chap – Craig to give us the lowdown! Whether you're a guy on a mission to look suave at your office Christmas party, or a partner desperate to get her man into something a little smarter, we've handed the reins to Craig to guide you through the suit-buying process…
---
.
First off I want to say that a good suit, regardless of your shape, the pattern and the fabric, is all about fit. What might look good on your mate might not look best on you! So…
Fit is everything. Try the suit on. That's the first basic rule. Put it on, look in the mirror and see what you think. Also, ask the opinion of someone else, and try to make that someone else a woman who's opinion you respect. Women love a guy in a great fitting suit, so she'll have a vested interest… particularly if you're planning to wear it to an event where she'll be showing you off to her friends, like that Christmas party.
Double or single breasted?
If you're a bit larger around the middle avoid a double breasted jacket, the layers of a DB will only add to the circumference of your midriff. With a DB the main focus is on the jacket, particularly the area where it crosses over, and the buttoning. If you'd rather not draw attention to that area go for a single breasted jacket with a 2 button fastening – that way your middle will be covered and the V shape created at your chest, showing your shirt, will give the illusion of a slimmer silhouette. Wear it buttoned for full effect.
.
Wearing a jacket too long on the sleeves will make you look like your wearing a hand-me-down. Don't be that guy. The sleeves should finish mid wrist and show a little bit of shirt cuff.
As with sleeves, the length of your jacket has a big impact on the overall look of your suit. Button it and stand straight with your arms by your sides. Curl your fingers under the bottom hem of the jacket and it should sit neatly in the curl of your hand. If you have to lift your arms to touch the hem it's too short. If the fabric bunches in your hands it's too long.
Next offer suiting in three 'lengths' Short, Regular & Long, this is indicated by the S, R or L after the chest size on their website. For anyone 5'8″ or shorter I'd recommend a short fit, between 5'8″ and 5'11" try a Regular and then above that – a Long. 
.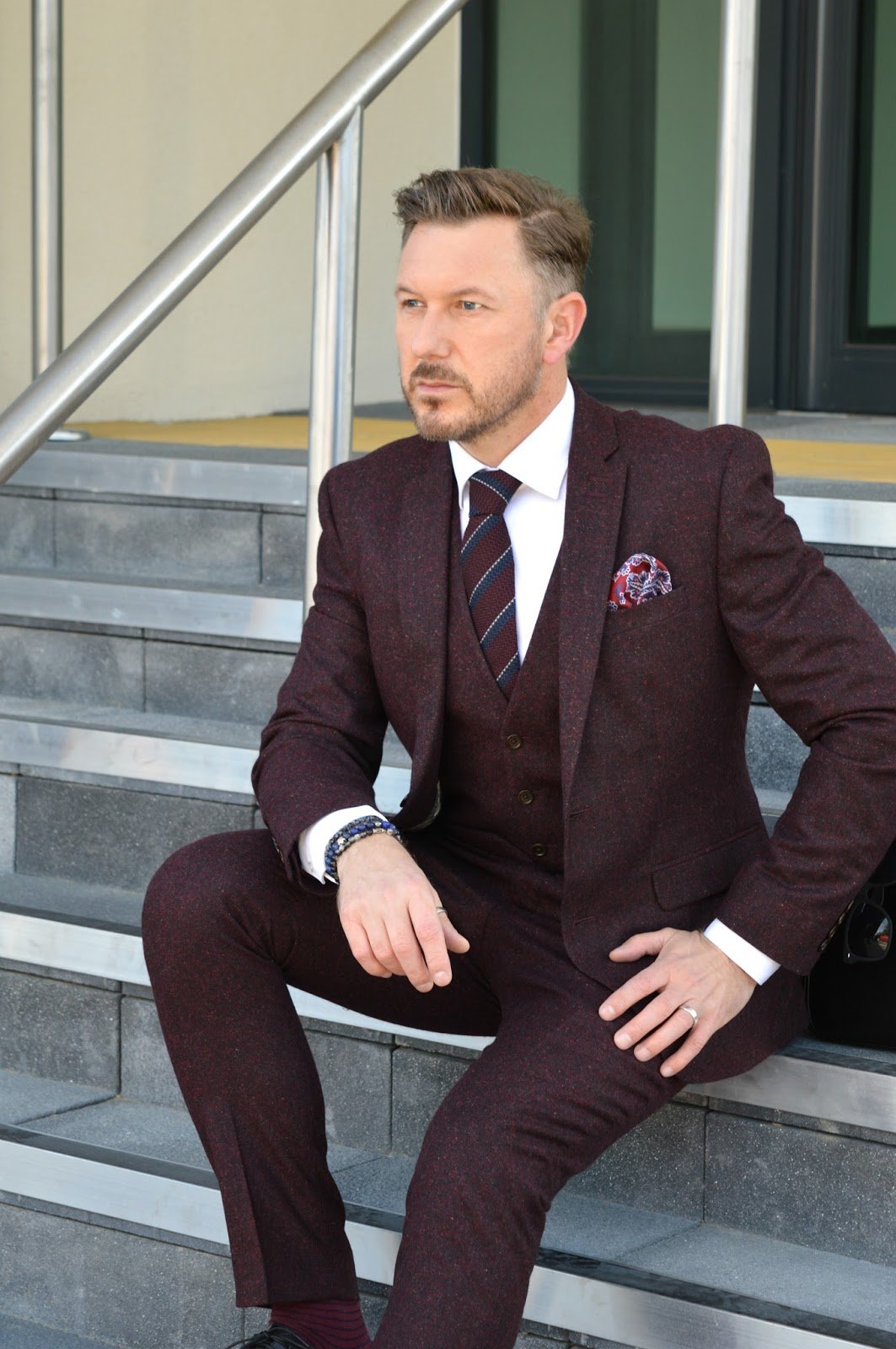 .
Be honest about your waist measurement. Avoid anything that gives you a muffin top. No, you won't slim down to get into them – pizza is just too good! On the flip side, you don't want trousers that you have to continually pull up, and that give you a saggy looking rear end. If you put them on and can slip your two thumbs easily round the waistband without breathing in too much they should be good for you. 
Again, the length is vital. Too long and they'll bunch at the ankles making you look shorter than you are. Cropped trousers are on trend so feel free to go an inch shorter to show off some fancy socks, but generally the hem of the trousers should sit neatly on the top of your shoes without bunching and will see you past the 'cropped' trend. 
One other thing to mention is that if you're the guy who never skips leg day, and has thighs that could kill a James Bond baddie with one squeeze – go for a tailored or regular fit rather than a skinny fit to avoid that 'sprayed on' look. It's not particularly classy, and a guy in a pair of trousers that gently hug your thighs and butt will be more appealing to a potential suitor than a guy in a skin tight pair who can't breathe or bend! Plus… people don't like knowing what the gift is inside the parcel just by the wrapping, if you know what I mean, ahem. Keep it classy.
.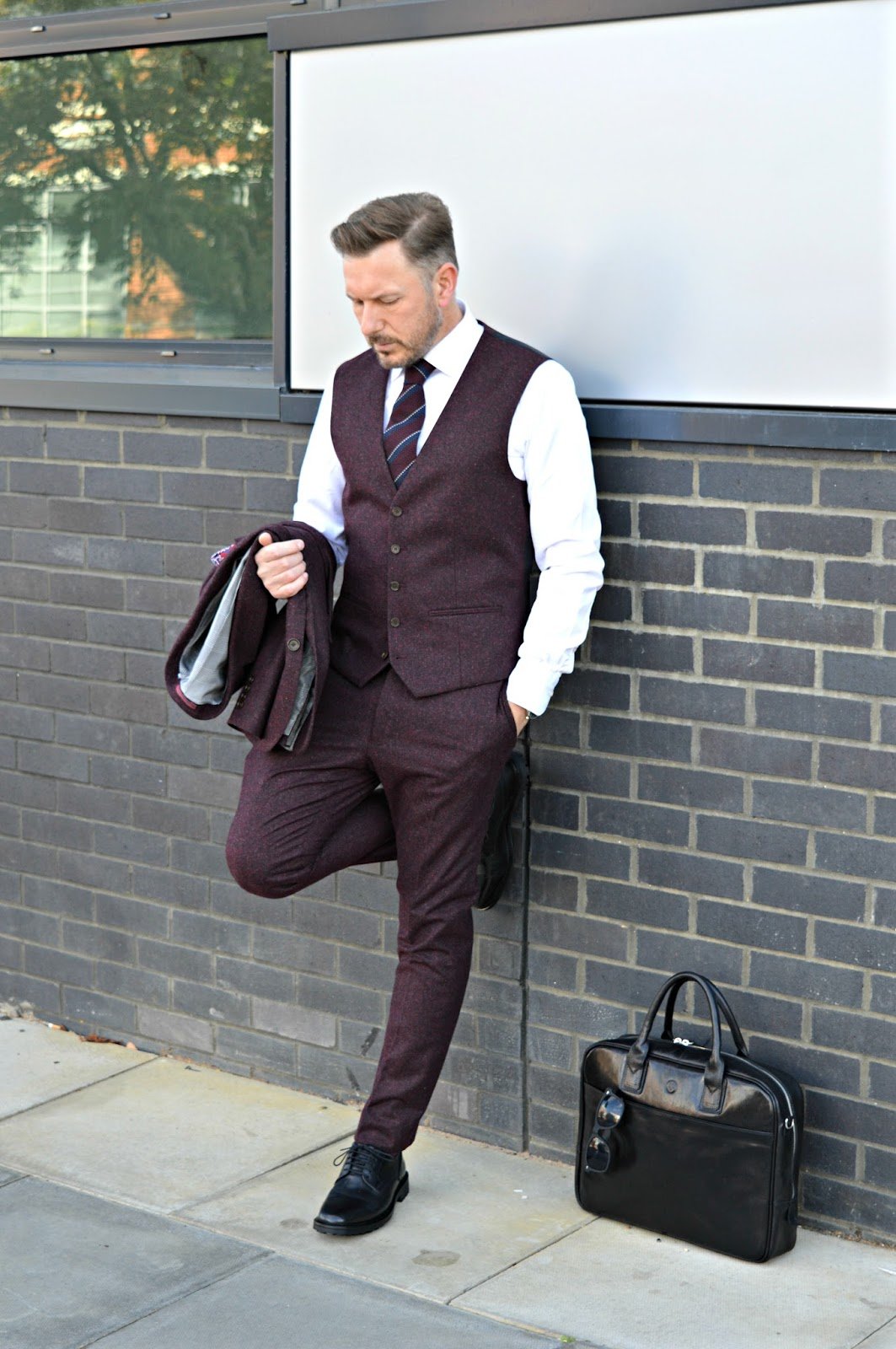 . 
The trend right now is for slim and skinny fit suits. The majority of Next suits are available in this fit and can look great when styled correctly. But to really exude confidence, you need to feel comfortable. If you're constantly having to adjust yourself because your suit is too tight (particularly 'down there') you're not going to look or feel right in it, and you'll probably get a few dodgy looks from those around you. 
If you're a slighter build, you're better off with a slim or skinny fit. A regular fit may not suit your frame and could result in looking like you've borrowed it from your dad! 
Try on the different fits in the same suit to get a good impression of what works best. You can do this in store of course, but Next also have a no quibble return policy, so you can order a couple of fits online, try them on at your leisure in the comfort of your own home and simply return the one that you don't want.
. 
Thanks Craig! If that's inspired you to get suited and booted in time for party season, take a look at our full range of tailoring and make the most of our Order by Midnight for NEXT DAY delivery service! Want to find out a little bit more about Craig? We fired him some questions!
.
Single or double breasted?
Both! I own and wear both. They offer different looks for different occasions
Nep or marl?
I'm in love with my latest Next suit which is Nep!
Flannel or wool?
Wool. Very traditional and warmer for the coming months
Tie or bow tie?
Bow tie. Stand out from the crowd, particularly on #BowTieTuesday
Belt or braces?
Braces. traditional and functional
Plain or pattern socks? 
Pattern all the way. Show some personality and avoid grey ankle syndrome
Brogues or loafers?
Brogues. In leather of course, in a rich tan or burgundy
To man bag or not to man bag? 
Man bag. Every day! don't spoil the line of your suit by filling your pockets with all the stuff you need to take with you every day.
You might also like