August isn't really turning out how we wanted it to. Scorchers have been replaced by umbrellas and we've even heard rumblings about putting the heating on. The summer's fast becoming the meteorological equivalent of Nicholas Cage – despite early promise, never quite living up to its potential. This isn't to say though that these conditions are loathed across the board… there's a slice of society who couldn't be happier that there's petit pockets of water sporadically placed on the pavements on the way to their house, and if you know one of them, you'll know
exactly
what we're talking about.
---
For those who aren't aware… the puddle troubling brigade are a small but passionate group of mainly younger people for whom just the sound of rain causes an increase in heart rate. The pitter patter of raindrops means they'll instantly be ready to outdo the weather gods with their own, louder pitter patter of tiny feet in any available standing water. If it's something a little person you know is showing an interest in just make sure they're supervised in new territories – it's hard to tell how deep a puddle is going to be!
The best way we can offer to enhance their puddle agitating agenda is with wellies. The most essential part of the puddle disruption outfit is the bit that comes into contact with the water itself. Not only have we got the technicalities of leakage-prevention locked down, we're also bringing aesthetics that appeal to their other interests!
Combining camo, unicorns, cars, flowers, dinosaurs and Peppa Pig makes the prospect of pulling on puddle-bothering wellies even more exciting. Head here for the full range of pairs they might pull on or tap straight through the image below to shop all of these wellies straight from the blog!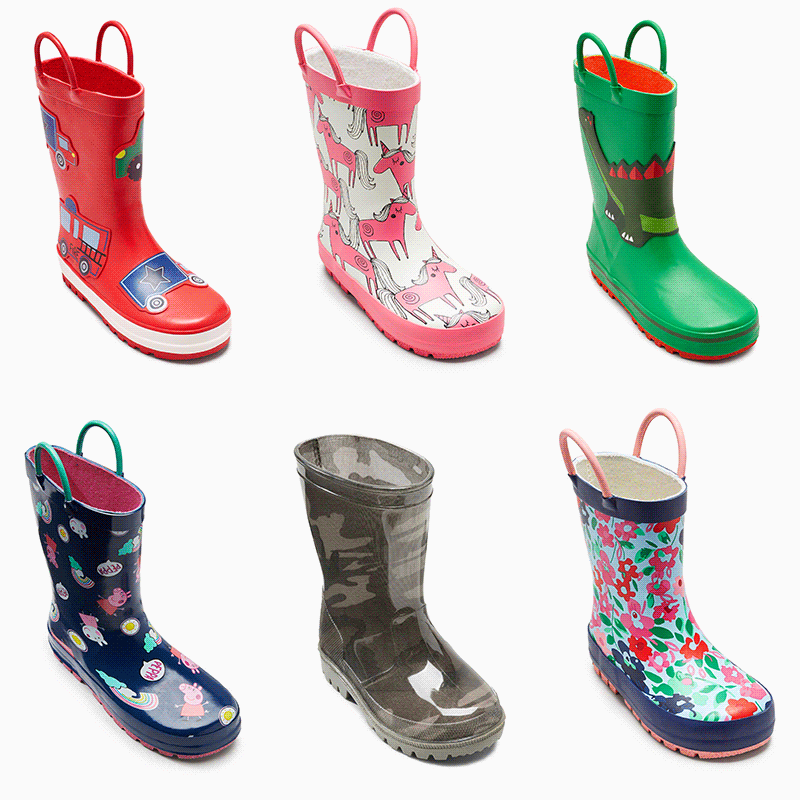 Which wellies would have them running around in excited circles? Let us know @NextOfficial on Twitter!
You might also like