There's no getting away from it – Christmas is rapidly approaching (only 29 days left to go!) To help inspire you with ideas for the kids, we caught up again with our favourite author and Instagram mum, Giovanna Fletcher (that's Gi, to you and me). The self-confessed Christmas fanatic and Next super-fan has selected her favourite Christmas pieces for kids, inspired by the clothes she loved as a child. From classic Christmas jumpers to party wear that's just right for Christmas day, there's plenty to delight. Watch the video to see how the Fletcher's will be celebrating Christmas in style.
---
There's nothing better than snuggling up to watch a Christmas film in some comfy cosies post turkey and for Gi and the family, it's all about home comforts during the holiday season. "I love the fluffy two piece, it's so soft and snuggly. If it came in my size, I'd live in it!" Christmas jumpers are also key in ensuring Gi's festivities are enjoyed to the max: "I've built up a very strong collection of them in my time as a Christmas fanatic. Thankfully, the boys love them too and haven't once moaned about a reindeer jumper or being dressed up as a miniature Santa."
"Buddy loves snowmen at the moment, so I knew this was the Christmas jumper for him. He wears it with such pride!"
Who doesn't love a bit of novelty at Christmas?! And surely everybody loves Rudolph, the Fletcher's certainly do. "One of my favourite picks comes in the form of a reindeer jumper that has little pompoms hanging from his antlers, which makes me love it even more." Our festive dino jumper is also a hit with Gi and the boys, offering ultimate outfit envy with all the trimmings; "I know this is pushing a fourth Christmas jumper onto the list, but it lights up! Buzz went to bed with this one next to him, and then put it on as soon as he got up in the morning. It was hilarious to see Buddy pointing at it, letting us know that he wanted it too. That's never happened over clothing before." Gi's all about celebrating Christmas day in style; "I do think a Christmas day outfit should start off smartly.
"It'll come as no surprise that I love Christmas. Our tree goes up before I've had a chance to open a single box on my advent calendar."
Sharing her edit of kidswear for Christmas, hover over the image below to shop her top picks.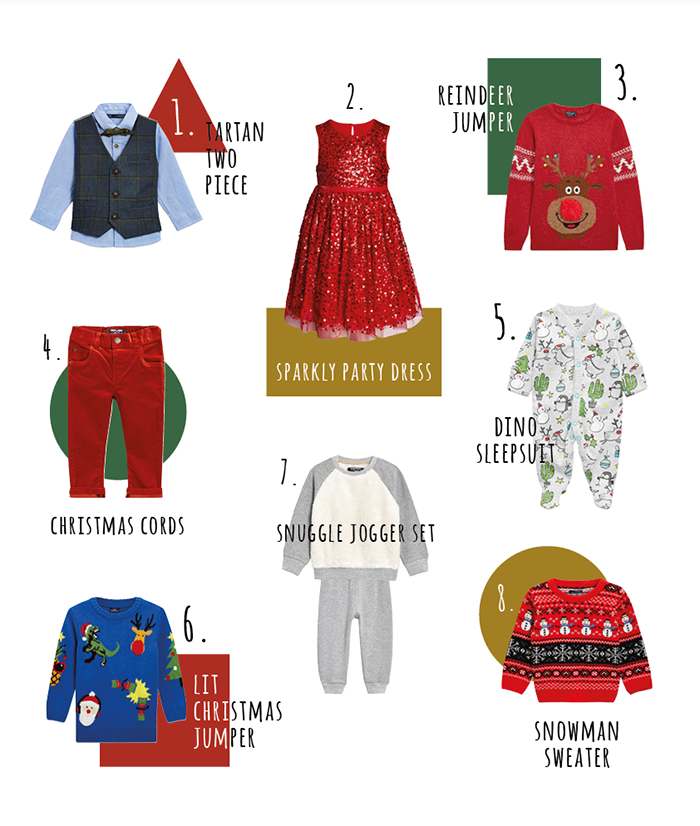 "The tartan waistcoat and bow tie set are so cute and dapper."
"It's sophisticated but in a childlike way thanks to the subtle print. The rust cords go really nicely with this little number too. They're made from a stretchy material so the children can still run around the Christmas tree. They also come in a few different colours. I don't have girls, so I've gone for what I think I would've loved to have worn when I was younger."
"Fun and the colour of Christmas, the red sparkly dress looks like it would give a good swing on the dance floor."
Not forgetting the little ones that have arrived just in time for Santa, Gi loves our newborn novelty selection that will get everyone in to the Christmas spirit: "I adore the printed sleepsuit, it's perfect for the baby in the family – because nothing quite says Christmas like snowmen and penguins with a few dinosaurs and cacti thrown in for good measure." Even Scrooge would find this cute!
---
.
Keep an eye out for Gi's spring edit coming soon. In the meantime, if you're already eyeing up some of these awesome pieces – hover over the image to shop straight from this post, or check out our full boys and girls collections online.
You might also like