We've been doing a little bit of fan-girling recently… After kickstarting a collab with TV presenter and mum of 3 Emma Willis, we've now become bezzies with the LOVELY Giovanna Fletcher who is not only a mum of 2; she's an author, TV personality and influencer! Talk about girl boss!? Gi has curated an edit of must-buy kids pieces and captured the magic with her beautiful two boys Buzz and Buddy in a super cute new video. Keep reading for the low down on why Gi's digging Next kids and shop her top 12 pieces straight from this post…
---
"When Next asked if I'd consider working with them I had to pinch myself. They really are the first place I go to look for clothes for the boys."
"Whether it be for an off-season holiday, a shift from summer to autumn or because one of the boys has outgrown their wardrobe and needs to jump up a size, I know I'll find designs I like and can trust the quality of their clothes." Like all mums, Gi understands the importance of practicality when it comes to shopping for her boys; "items I can always bung into the washing machine or tumble dryer without stressing about it shrinking" – which we all know is totally essential with two toddlers who love running wild!
"Bright but autumnal all at once! I LOVE IT!"
Already a Next super-fan, we wanted to give Gi the VIP treatment and invited her up to Head Office to see how her fave kidswear pieces go from design to doorstep! "While I was there I had a browse through the current autumn/winter collections and pulled together some of my favourite pieces." She curated the perfect transitional edit as well as "a few loved pieces that were already sitting in the boys' wardrobes." Hover over the image below to shop Gi's top 12 pieces for boys and girls.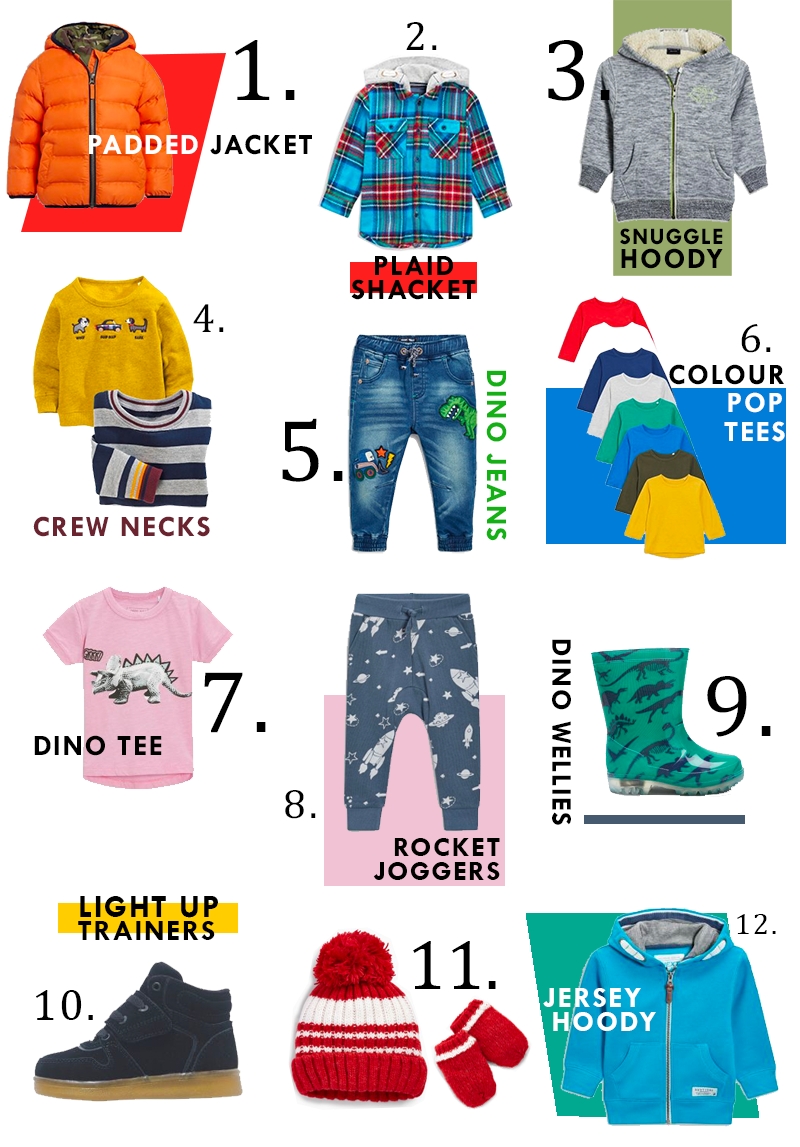 One of the pieces already in Buzz and Buddy's wardrobe is our orange padded jacket (which also comes in other colours!) – "the boys look so warm and cosy in them, but also unrestricted – which is great for when they're running around outside." We're guessing the bright colours come in handy too, especially when it's so dark before and after school! We love how a multipack doesn't go amiss in the Fletcher household; "I mean, who doesn't love a multipack? Each summer I get a short sleeved pack and then in the winter I get these. There are other colour palettes available too but I love the mixture in this one. They also wash really well."
"Just look how snuggly this hoody is! It's all fluffy inside. I just wanted to keep touching it. Any chance of getting this in my size?"
Gi's boys are also fans of our motif jeans; "The best thing about these bottoms is that they look like jeans but are actually made from a jersey material, meaning they aren't restrictive." An elasticated waist means extended wear is comfortable and makes getting them on and off less of a battle! Another wardrobe staple that NO child can be without is a super soft hoody; "Buzz has a few different colours in his wardrobe, mostly because I'm really indecisive and can't make quick decisions, but also because they're a dependable, go-to item." With 5 star reviews online as well, it's clear these are a family favourite. When it comes to accessories, boots for stomping around in are a must. "As a kid I always wanted shoes that were fun and did something more than just protect my feet. Sadly my mum never indulged my fancy. For years I've looked longingly at little feet around me with wheels or hidden keys. But this is a whole new level of envy. Buddy has these and loves stomping around in them." For something extra fun, our dinosaur wellies will have your little ones begging to wear them in the house… great when you're trying to get them out of the house in a hurry but obviously not advised post-muddy woodland walk!
. 


Look out for another of Gi's edits, coming soon. In the meantime, if you're already eyeing up some of these awesome pieces – hover over the image to shop straight from this post, or check out our full boys and girls collections online.
You might also like