October Half term is a few weeks away so it'll soon be time to get the kids prepped, starting with the girls… Keeping the little terrors entertained for a whole WEEK can be a daunting prospect, but a selection of seasonal activities and some autumn-appropriate outfits should do the trick. We're all about heading outside to enjoy the crisp, fresh air, collecting conkers and crunching through leaves. Have you thought about what you'd like to do??
Though everyone's saying we're due an Indian summer, there's nothing quite like stocking up on luxurious knits, jackets and hats. After all, getting cosy is a highlight of autumn! Plus, if it's mild now – you know it'll stay cold well into spring so winter warmers are a wise investment! Velvet is having its moment in the fashion spotlight and it gets a double thumbs up from us. Just look at this delectable Green Velvet Biker Jacket for some serious style-envy. The zips and belt give this a rock chic vibe, while the shimmery green velvet makes it suitable for smarter events. Add a pair of these Denim Mid Blue Embellished Floral Jeans to her look for true outfit impact.
Pink, pink and more pink! Yes, we're equally as obsessed with this heavenly hue. Go matchy matchy with our pink Hat And Mittens Set (hello super cute pom-pom!), and Mary Janes Shoes for an eye-catching look that's sure to have people asking you where it's all from!
If you're planning on some indoor fun or parties, ensure they look the part in our Navy Zip Dress. It's sooo versatile and can be layered over a polo, tees and tights to keep her warm and toasty when the temperature drops. Finally, add a touch of pizzazz with our Blue/Green Mermaid Sequin Envelope Bag – it's the perfect piece for elevating a daytime ensemble, or adding shine for party season!
Tell us which pieces you'll be snapping up for half term by leaving a comment below or tweeting us @nextofficial.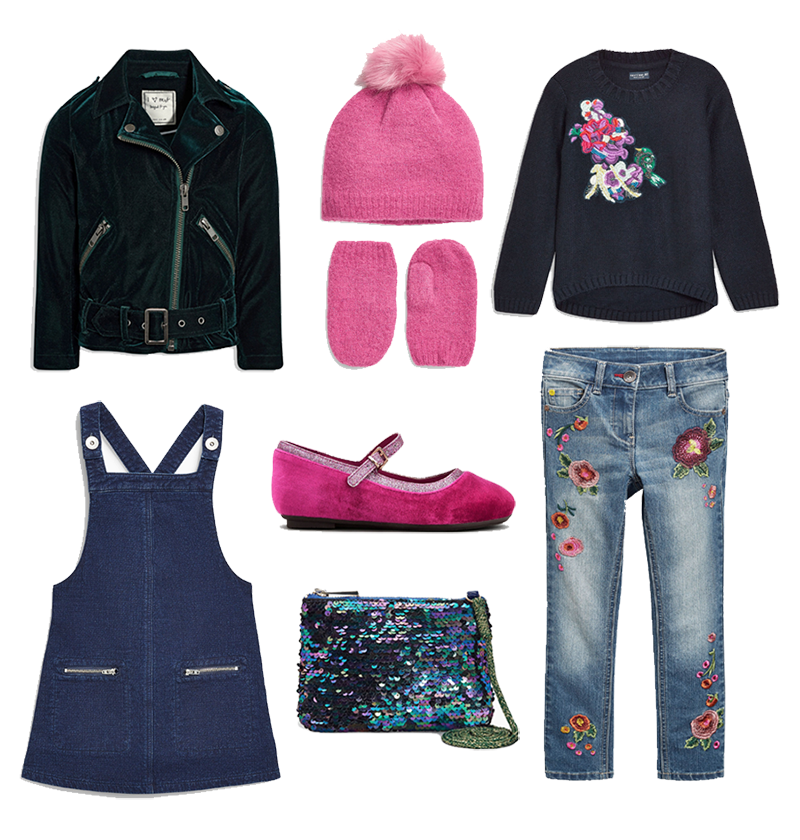 You might also like