No Halloween plans? Not a fan of zombies? Then it's time to host your own adult soirée. Round up your besties and host a low-key event chez vous without the hassle and fake blood. We've got everything you need for a fang-tastic evening whether it's spooky cocktails or a warming pumpkin chili…
.
Blood-Thirsty Cocktails
Get your pals involved in some cocktail making. For blood-coloured sangrias, mix red wine, pomegranate juice and Cointreau. Once combined, pop the mixture in the fridge before stirring in some sparkling water. Pour over ice and finish off with sugared rims and oranges for garnish! Serve up in test tubes for the ultimate nod to Halloween… 
. 
Grown-Up Fancy Dress
For an adult approach to Halloween dressing, get our Glow In The Dark Ghost Top in your basket. This season's penchant for cute motifs makes it something you can wear all year round (try dressing down with a dungaree dress and boots)… For this weekend's main event, pair with our slinky Pewter Leather Look Leggings and Black Jewelled Drop Earrings for a touch of gothic glam…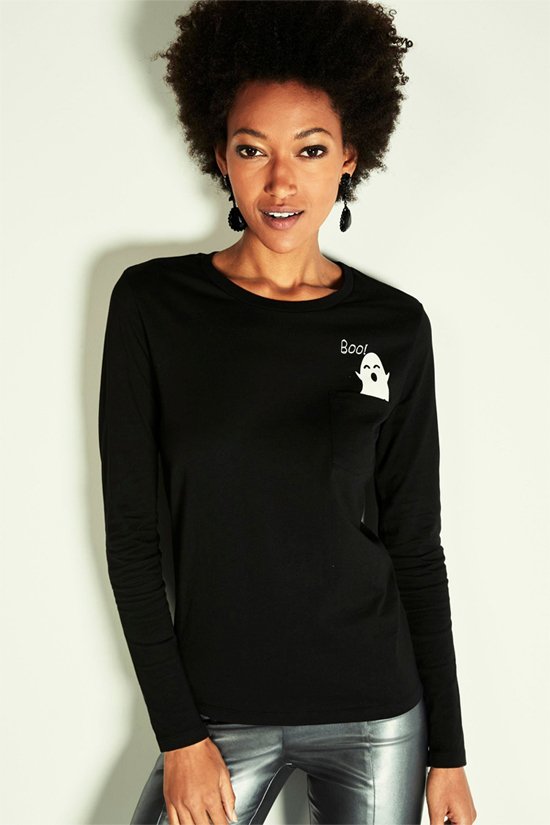 .
Pumpkin Chili
Yummy food is critical to a successful soirée and luckily there are a plethora of ways to incorporate pumpkins into your menu. Try a spooky twist on a firm favourite – chili, by blending in some pumpkin puree. It's a hearty meal that'll ensure you and your ghoulish guests have loads of energy for a night of spooky tales. If it's something sweet you're after, try whipping up some chocolate orange brownies. Yum!
BYOP (Bring Your Own Pumpkin)
No Halloween soiree would be complete without a bit of competitive carving. Ask your guests to each bring a pumpkin and make sure you have an independent adjudicator on hand to select the winner! This makes for *the* best Snapchat story, so remember to keep your other mates up to speed on all the action. 
Scary Movie
To finish off the evening, get cosy in front of a scary movie marathon. There's noooothing better than grabbing ALL the cushions and throws you can find, then tucking into some pick'n'mix. Why not resurrect (no pun intended, ahem) The Blair Witch Project, The Shining and The Exorcist for maximum thrill factor? Prepare for LOTS of screams and expect to need a friend to accompany you to the loo! 
What are your plans this Halloween weekend? Let us in on your spooky goings on by tweeting @nextofficial.
You might also like