To many, spring is the perfect time to get stuck into those home improvements you've been talking about (but not committing to) all winter. As the days get longer, our enthusiasm for taking on a DIY project grows and our 'don't move, improve' mentality sees us looking for effortless ways to update what may have become a tired bedroom or out of date kitchen. In this post, we're crushing on interior influences from one of the most affluent residences… The Hamptons is all about chic, modern living – keep reading for the low down on how to achieve the look in your home.
---
Pare back your palette
The element that's most synonymous with this trend is the pared-back palette. High contrast monochrome should form the base of your scheme but how far to dial it up is down to you. Black is often seen as an overpowering choice for the home so if you'd like to introduce it to floors or walls, you'll need high ceilings and lots of space to counterbalance any of its shrinking effects! For homes on the smaller side, you can still make the most of the monochrome palette – just do it through accessories and soft furnishings – keeping your floors and walls nice and light!
Give greenery the go ahead
Though this mono palette is what makes the Hamptons trend so striking, it can feel a little masculine (not that that's a bad thing!). But if you'd like to take the edge off, we recommend introducing some greenery. Connecting your home to the great outdoors is not only great for boosting our mood and wellbeing but it gives life to a room. So whether it's a mini aloe vera beside your bed or a larger than life cheese plant – consider the careful placement of something green to add a fresh dimension to your home. If the idea of tending to greenery seems a little daunting though, we have various artificial flowers and plants you'd be hard pushed to tell aren't real!
Be playful with pattern
While colour isn't the main focus of this trend – pattern does play a big part. It's ideal for adding another dimension to a room whether it's through upholstery, curtains or soft furnishings. We're feeling daring this season and favouring the more intricate details but if you're new to print and pattern – bedding is a great place to dip your toe in (as you can switch it up as often as you like). If your décor is already quite pared back then you have license to experiment with extravagant patterns. We love that bedding can be as much or as little the focus of your room depending on what style you opt for, but for that true Hamptons feel – something high contrast with a hint of preppy stripes is perfect.
Gold standard
As everyone knows, the Hamptons is a holiday retreat for the wealthy and this is totally mirrored in the modern chic interiors. Even though the graphic monochrome palette and intricate patterns could be perceived as overly stylised, it still maintains an air of insouciance. The look isn't cluttered, it's considered. To soften things without taking away from the overall theme, use gold accessories like frames, mirrors and vases – all of which add to the air of luxuriousness.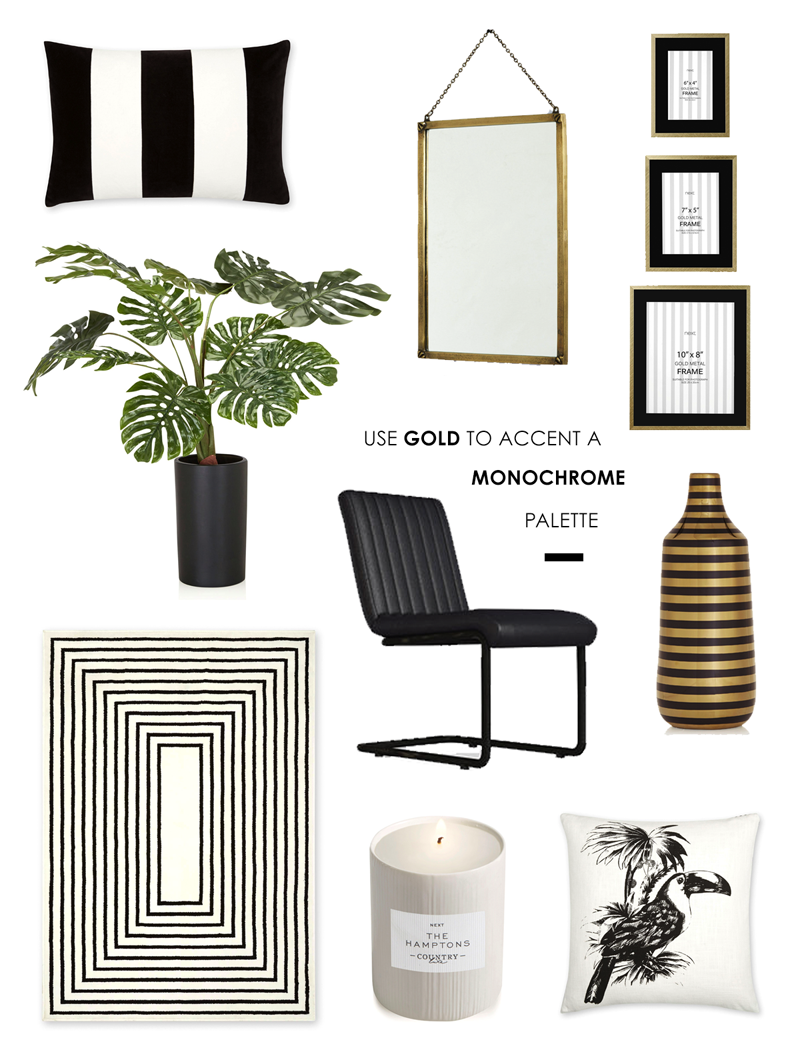 Can you see yourself importing some Hamptons-style décor into your home? Hover over the pieces above to shop straight from this post or browse the full collection here. 
You might also like