Hygge [pronunciation: hoo-guh] is the Danish way of life taking Britain by storm. Although it's quite the opposite; hygge is all about embracing all things cosy, calming and comfortable with friends and family. Some might say the art of cosiness. Especially around autumn and winter, we love the idea of this concept, which lends itself to darker evenings and chilly weekends. Whether it's lighting a candle and curling up on the sofa after a long day, or creating your favourite slow cooked meal for your family, here are our top picks to make your life that little more hygge, every day.
Put the kettle on
First thing's first, pop the kettle on. Tea lovers and coffee fans alike will know that there's nothing like a brew to put a smile on your face. We love these adorable Deer Stacking Mugs (£9) for slurping hot chocolate from. Oh, and whilst you enjoy your cuppa, it's obligatory to be wearing cosy slippers propped up on a super soft knitted pod. It'd be rude not to.
Light a candle
Set the mood with mellow lighting and fragranced candles. Hygge is all about feeling warm and fuzzy, so the perfect lighting set up is a must. We're feeling these very autumnal Woven Bark Lanterns (£10), which look lovely with a tea light shining through. This time of year means there are lots of new home fragrances added to the collections too. Get your PSL fix with the gingerbread scent or fill your home with roasted chestnut, cinnamon, amber and sweet vanilla.
Snuggle into a faux fur throw
Layer up your sofas, beds and armchairs with soft throws and blankets. Your excuse? Hygge. This season is all about mixing textures so team a red check blanket with faux fur throws for ultimate comfort. Pair with the Let's Stay Home Cushion (£12) to reeeeally let people know that staying in is the new going out.
Wrap up warm
Because can you really have too many jumpers? Slouchy, oversized and the chunkier the better. We're feeling cosy just looking at this super soft Cashmere Blend Roll Neck Sweater (£95). It's made with 90% cashmere and 10% silk – a combination of dreams! Wear with skinny jeans and boots for a wintry date night.
Invite round friends and family
Hygge is all about embracing quality time with loved ones. Bring friends, family and significant others together with a delicious slow cooked meal. Turn off your mobile (except for maybe a quick Instagram snap of the table…) and enjoy catching up with those who mean most. This season's beautiful tableware is ideal, with our £22 slow cooker being an excellent investment for warming, homely meals.
What are your favourite ways to get cosy when the temperate drops? Have you been welcoming the hygge way of life into your home this season?
10 ways to get hygge this season
Hover over the products below and click to shop! And with our Order by Midnight for NEXT DAY delivery service, there's no excuse NOT to get cosy in the run up to winter…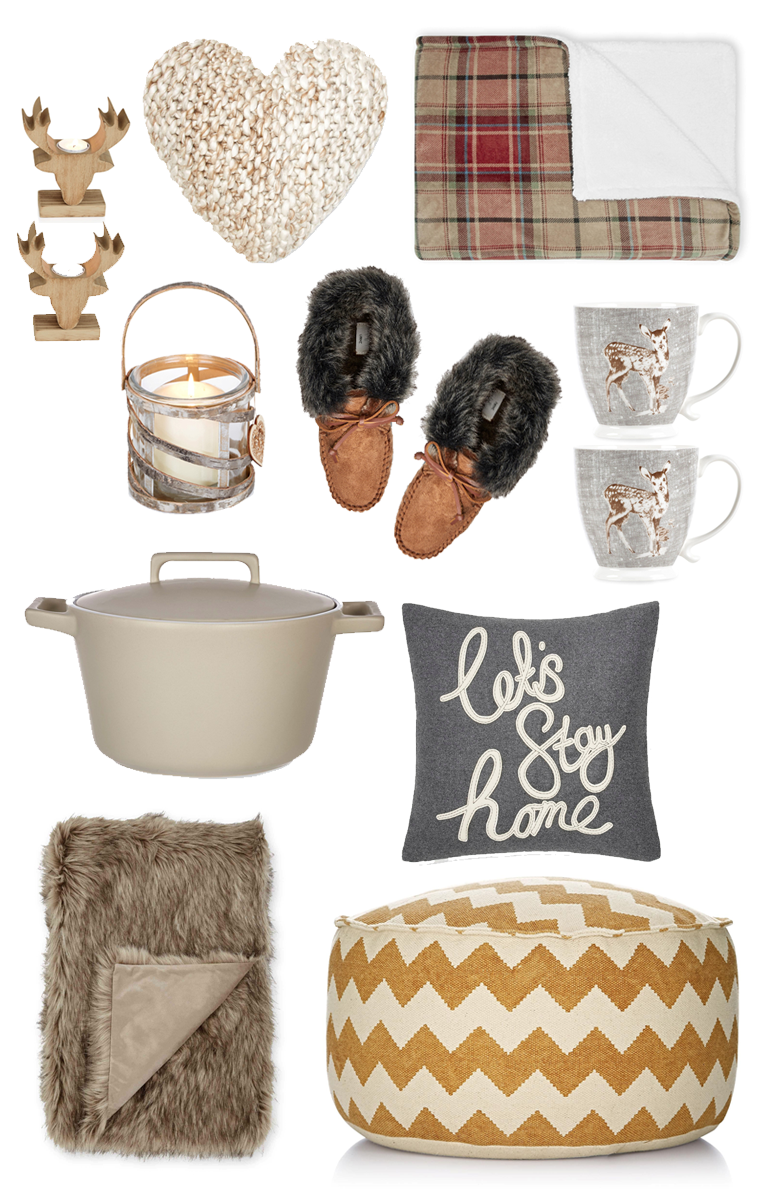 You might also like