It's Monday. Like every day of the week you're tired. A co-worker approaches the lift and you feel obliged to hold it for them. A person you would never speak to if you didn't happen to work in the same building. A cacophony of silence crashes down all around you as you curse the spontaneous quips that are failing to flood into your mind… The ensuing seconds will determine whether your day soars or crashes and burns. 
If you had read this post, you wouldn't feel yourself being flattened under
 crushing awkwardness because you are provided here with an essential guide to all the conversation starters you could possibly need. Your wordless mouth would not be hanging uselessly open because here, in bullet point form, is everything you could comfortably break a silence with. From the timeless to the time sensitive and from the impersonal to the personal, bookmark this page and relax. 
Here goes…
---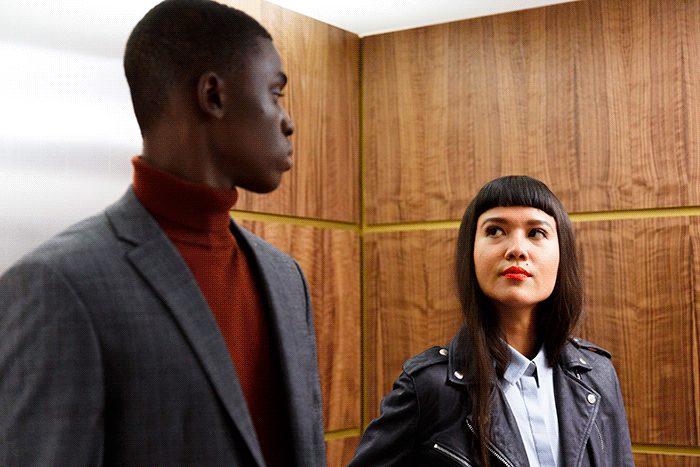 Spotted something you think could save you being crushed by awkwardness? If not consider staring intensely at your phone or perhaps working from home all the time? Let us know @Nextofficial what strategy you think you'll be opting for! Plus, tap the image to shop either of these lovebird's outfits.
You might also like