Sleep is a hot topic at the moment… from the simple adjustments we can make to improve the quality of our zzz's to understanding the sciency stuff like circadian rhythms. It's no wonder everyone's talking about sleep, we spend a third of our lives tucked up in bed so creating a haven of relaxation should be priority number one when it comes to your bedroom. Here are 5 ways to have a good night's sleep…
---
G E T   C O M F Y 
It might seem obvious but having a comfortable mattress is the first port of call for getting a good night's sleep. There are mattresses for ALL sleepers – whether you're a serial fidgeter and need one that isolates movement (to prevent disturbing your partner) or suffer with allergies and need a mattress that contains copper – a natural antibacterial. You should replace your mattress every 8 years but if you can't remember how long you've had it, look out for signs of wear and tear, consider whether it's adapting to changes in your body, is it harbouring unwanted friends (read: bed bugs) or is it simply keeping you awake? All of these are signs you're due a new one.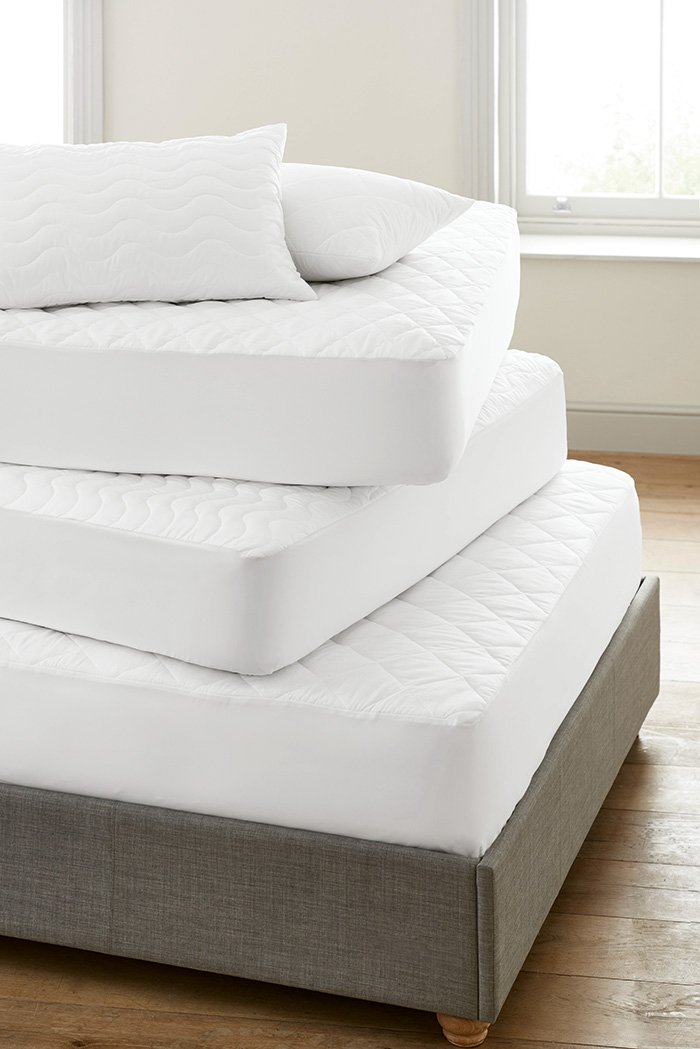 N E W   S E A S O N   ,   N E W   D U V E T
We're not recommending you buy a new duvet every season but you should be adjusting the tog in line with changing temperatures. For example now that we're coming into spring and the outside temperature is increasing, you should think about reducing the thermal resistance (aka tog rating) of your duvet to avoid being uncomfortably hot in the night. A summer duvet tends to be 4.5 tog whereas a winter duvet will be around 16.5. Once you've sorted the tog, think about the filling. Do you prefer natural or synthetic? Both have different benefits… Natural is great for those who like a luxurious feel that sumptuously drapes around the body. Synthetic is ideal for those who might have allergies and prefer to machine wash their duvets.
.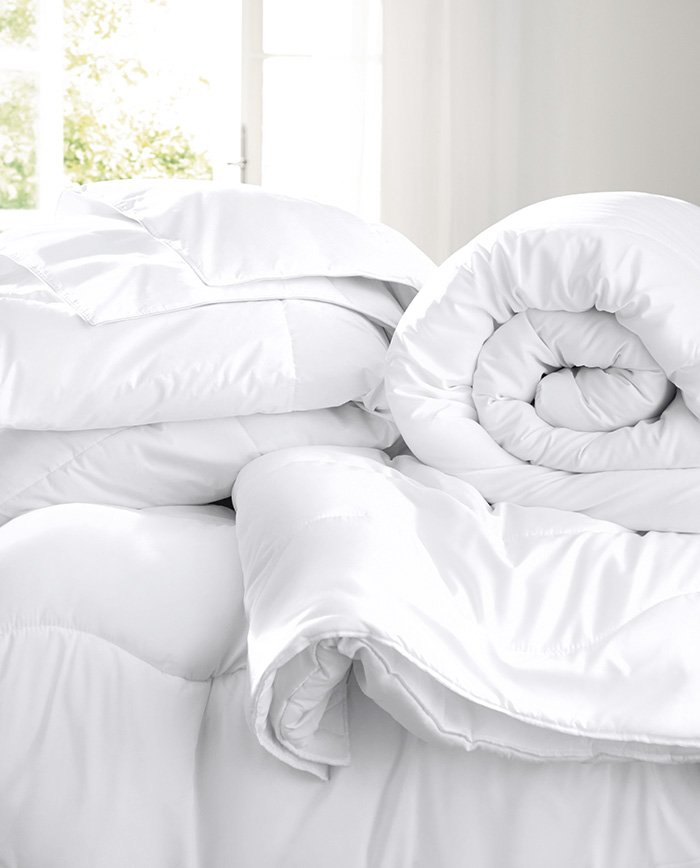 C O O L   C R I S P   B E D D I N G
Getting a good night's sleep doesn't stop at duvets and mattresses, bed linen can also impact your mood. Lightly coloured sheets are a serene alternative to bold prints and can help free the mind from the day's stresses. Before you go to sleep, you should try to create a calming environment. This can be achieved through:
Soft lighting – a bedside lamp or candle rather than a bright ceiling light
Some fresh air – crack the window slightly to encourage air flow
NO phone – avoid scrolling Instagram an hour before lights out
Sumptuous bedding – freshly washed linen is so tempting to climb into
Reading a book or practicing mindfulness – anything that helps switch your brain off from the day
.

 .
B L O C K   O U T   T H E   W O R L D
Longer days can have an affect on our sleep – NOT that we're complaining! In winter, we tend to be woken solely by our alarms however during the summer months it's common for the daylight streaming in to wake us up early. Some people don't mind waking up in a light room and if you're an early riser, it'll help your body naturally adjust to getting up. If you have to sleep in complete darkness, there is a solution… Black out curtains contain room darkening features and are made from a thicker material than regular ones. This means you'll be plunged into darkness for as long as you need – perfect for weekend lie ins or if you've got a street lamp right outside your bedroom window.
.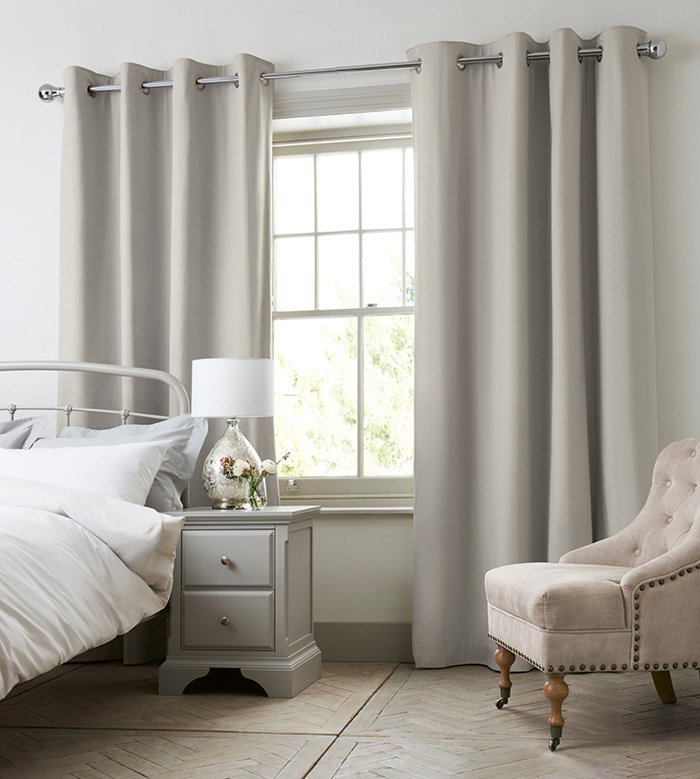 .
S M E L L S   L I K E   S L E E P
The final way to get a good night's sleep is through filling your room with a sleep inducing fragrance. Lavender is a calming scent which helps regulate your heartbeat and in turn alleviates mental stress and anxiety. Using lavender in the form of a pillow spray is a quick and simple way to improve the quality of your sleep. Spray it over your pillow as you get into bed and do a few deep breaths in and out to feel the benefit. You could also light a candle to boost the ambiance of your room – just don't fall asleep before blowing it out!
.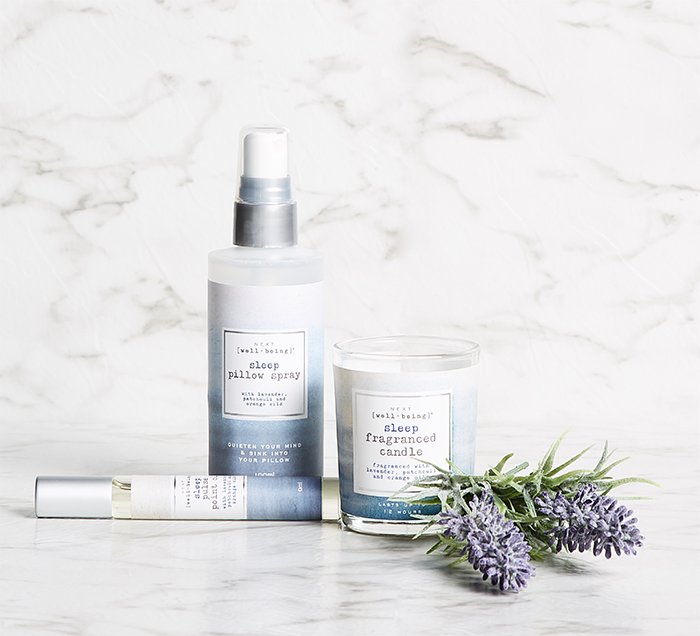 ---
We hope these tips help you get a good night's sleep! Let us know if you have any more tips and tricks by tweeting us @nextofficial and using the hashtag #YourNextSleep. 
You might also like