The bewitching season may be here but we're not ready to sacrifice fashion for ghoulish costumes and fake blood! If dressing up isn't something you're into, we've styled some scarily GOOD outfits for Halloween and beyond. Each with a spooky spin, scroll down to find your go-to get up…
---
M O N S T R O U S    O U T E R W E A R
This jacket is BIG and bold, but don't be afraid of it. Everyone should have a furry coat companion in their wardrobe, something that's akin to wearing a giant hug while simultaneously glamming up every item it's worn with. The statement pink patchwork sets this coat apart from the black or neutral versions you've seen everywhere else. There are endless outfit variations to be had too, from throwing it on over your go-to jeans and tee combo or something like we've done here – by playing with textures alongside a glittery dress.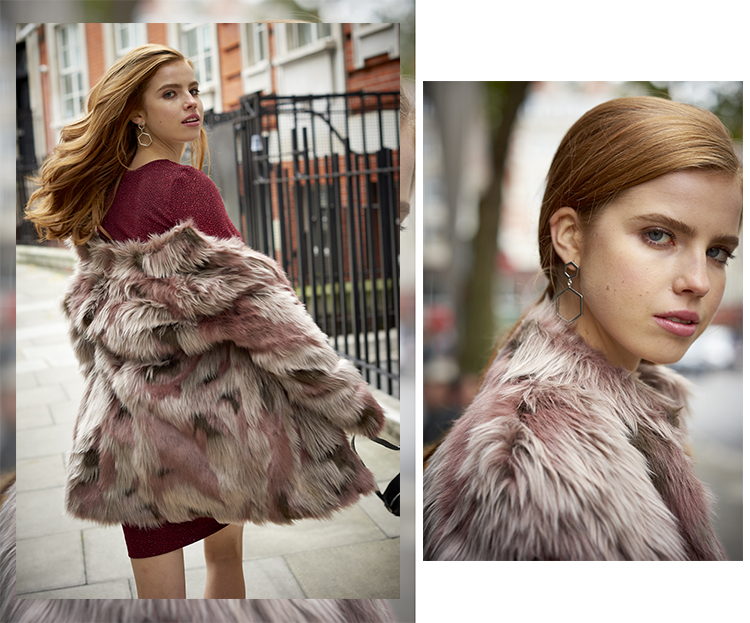 A   T O U C H   O F   B L O O D   R E D 
If fake blood isn't your thing, give a nod to it (in a non-committal way, of course) via statement red accessories. Deep red is the perfect contrast to a black shearling jacket and leather look dress. It's not as stark as the pillarbox shades we've seen much of lately. Tassel earrings are fast becoming an everyday wardrobe occurrence. We love how unexpectedly versatile they are (despite our initial fears about Pat Butcher) – and how they instantly elevate an outfit whether you're dressing up or down.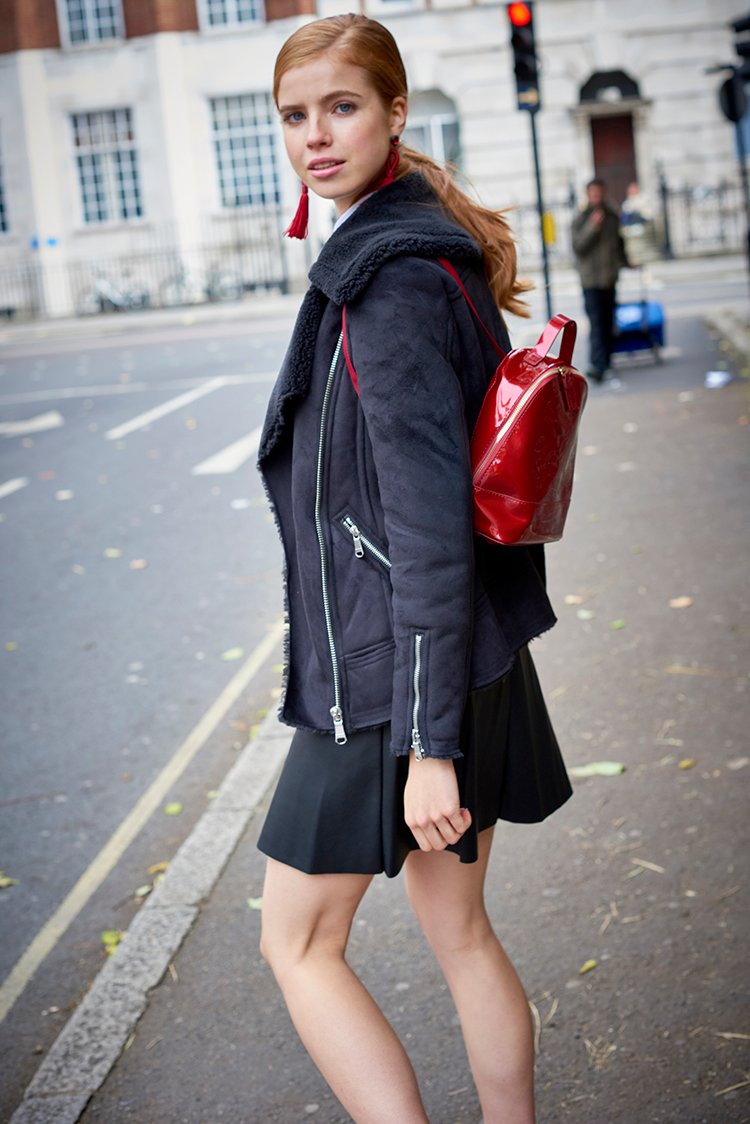 S P O O K I L Y   S M A R T  
There's something undeniably cool about Wednesday Addams, so we've drawn inspiration from her love of layering. Traditionally, a shirt collar would peep out from a crew neck but seeing as it's 2017, we're spicing things up with a tassel cami dress.  The crispness of the shirt coupled with shimmy-inducing tassels make this look an office to out must. Cape a double breasted navy blazer (yes we did just mix navy and black) and throw on a structured cross-body bag for the ultimate cool-girl take on spooky smart dressing.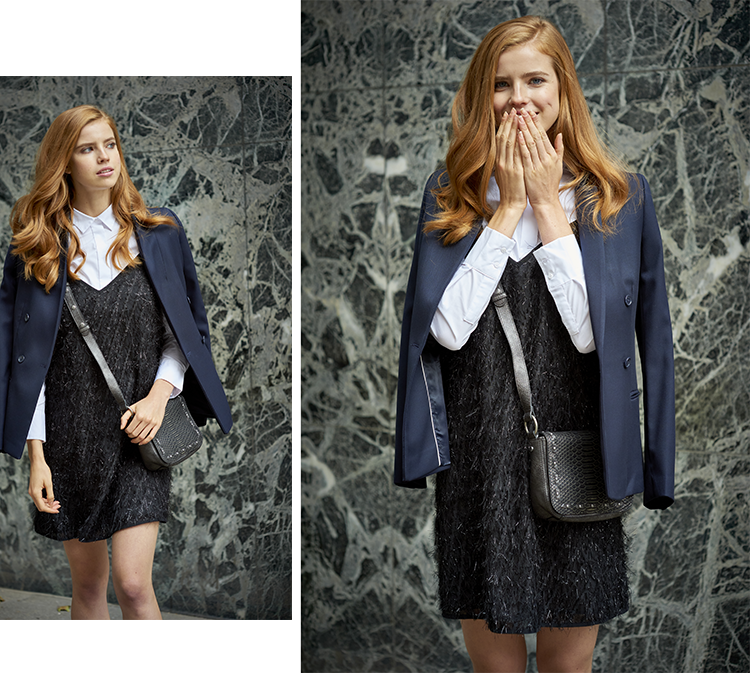 B E W I T C H I N G    L A Y E R S
A successful wardrobe is defined by wear-forever staples that can be mixed and matched for different occasions. This look certainly passes the test. An unassuming Victoriana lace blouse effortlessly transitions between seasons and when paired with a mesh overlay skirt, results in a perfectly balanced day to night outfit. For some added edge, our sueduette biker is a worthwhile investment – something you'll pleasantly discover complements much of your wardrobe.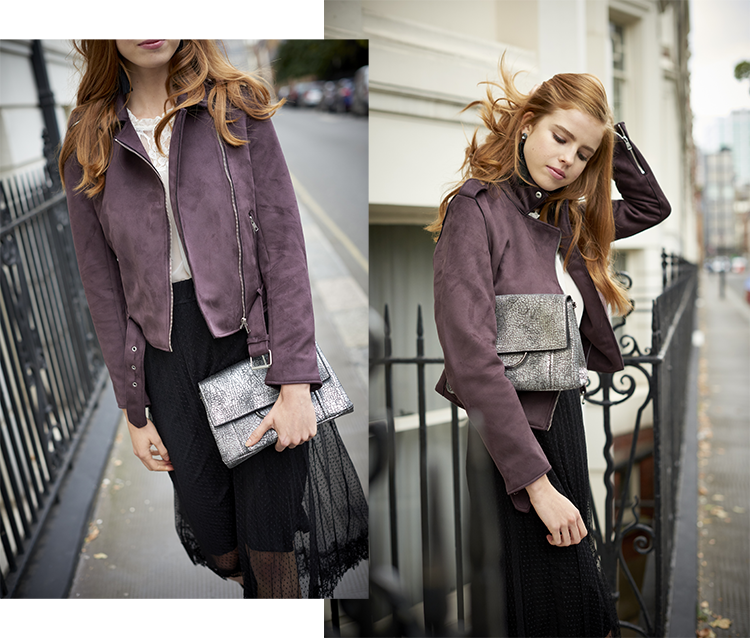 D E V I L I S H L Y    G O O D    O U T F I T    E L E V A T O R S
We all have something that transforms the way we look and feel, those pieces which boost our confidence and make us walk a little taller. Why not find more of those? Something as simple as a statement coat (this red one is DIVINE) which both dials up your daytime ensemble and doesn't look dowdy with your evening attire. An LBD that shows off your best bits is always a winner, or traffic-stopping heels that win admiring looks from strangers. Stock up on outfit elevators that will change the way you think and feel each day.
What pieces will enable you to #LookScarilyGood this spooky season? If you've seen something here that you have to add to your basket, hover over the items to shop straight from this post. 
You might also like