The start of summer usually signals a very important shift change in our wardrobes. It's event season. Invites pour in through our front doors and our inboxes but the age old question remains – what to wear? According to research, we shop with one of three style needs in mind when it comes to occasionwear – 1. a splash of colour 2. statement-making colours and prints and 3. versatile looks that can be worn again and again. We're tackling them all in this 3 part miniseries… #GetReady for summer with us – first up, pastels.
---
Sun filled days and balmy evenings are the perfect accompaniment to occasion dressing. Not having to worry about a jacket or coat, going bare-legged – summer is simpler for getting dressed up! But if your colour palette doesn't extend beyond black, you might find the warmer months a tricky time for styling. If all-black-everything best describes your everyday wardrobe, try introducing colour into your dressing up arsenal through accessories. Apply this season's penchant for pastels to your shoes or bag and watch as it brightens up a black or navy outfit. Think everything from lilac heels and mint arm candy to baby blue earrings.

If you're willing to dip more than just a toe in the pastel trend, why not make one element of clothing a pastel colour? These dusky pink culottes give an understated nod to the pastel trend without feeling OTT. They pair effortlessly with black but if you're worried about creating too harsh a contrast, we recommend softening the look with a grey check blazer – the pink running through this one really pops against the culottes! Statement red sunnies are optional but we couldn't resist…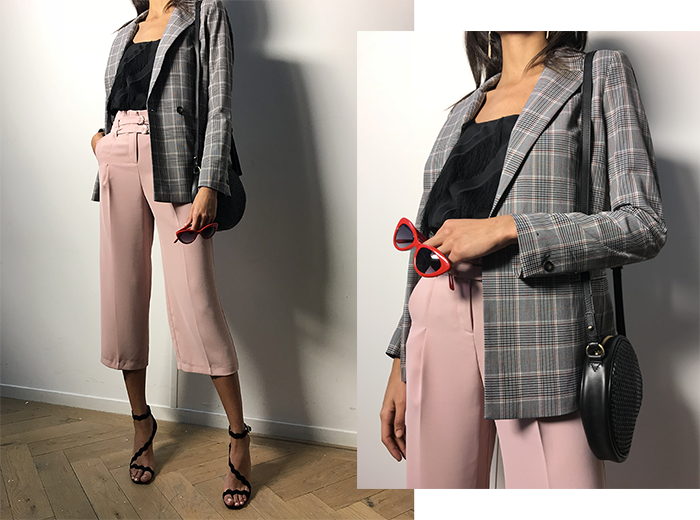 If you've miraculously decided summer 2018 is in fact the time try something new, throw yourself in at the deep end with a pastel dress or suit. Watch our video for tips on how to style >
 .
Are you looking to add a splash of colour to your wardrobe? Are pastel accessories as far as you're willing to experiment or can you be tempted to try a head to toe look? #GetReady for summer and our website for more inspiration. 
You might also like