Not so long ago, we'd have been ridiculed for suggesting jeans were a versatile addition to your work wardrobe. Once solely the reserve of off-duty dressing, they were seen as far too inferior for the office. Nowadays, opinion is shifting and workplaces are more accepting of our favourite fabric. But there's a fairly sizeable caveat where 9-5 dressing is concerned – denim is for dressing up, not down. Keeping reading for the rules…
---
G o   f o r   a   d a r k   w a s h
If you're worried about not being smart, it's best to opt for a dark wash. Inky jeans will show you mean business, unlike lighter, more acid washes. Ultimately it's about the ability to create a sleek ensemble, and that's far more likely with dark blue or black jeans. Skinny styles (with no rips or distressing) are going to facilitate a slender silhouette.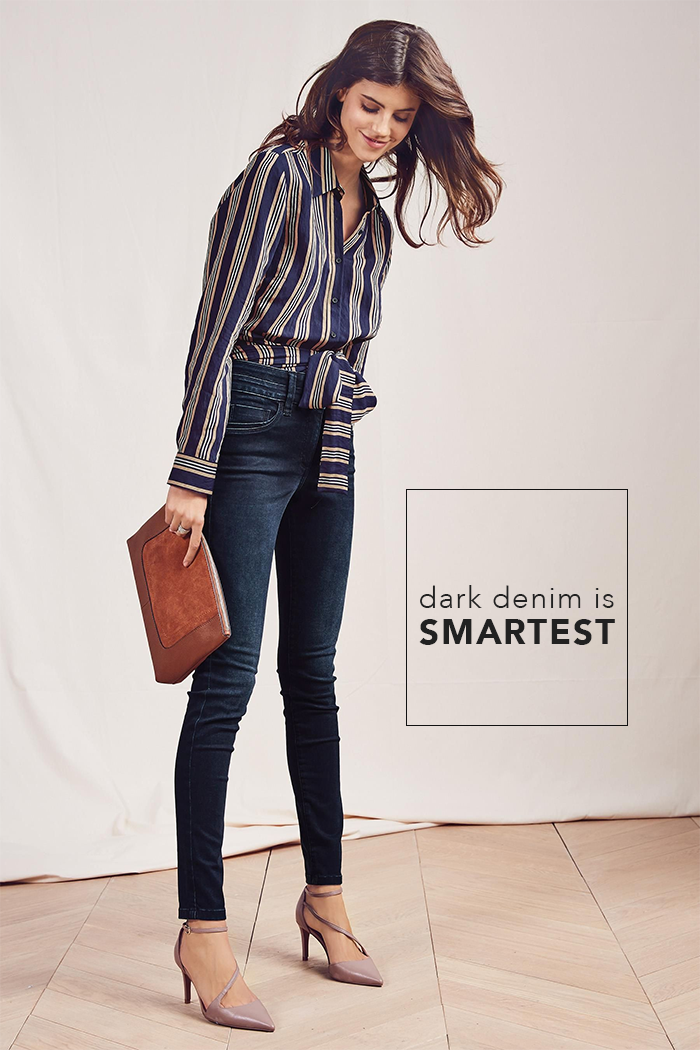 E l e v a t i o n   i s   k e y
Dressing up your denim is the aim of the game so consider smarter, more structured pieces when outfit building. A tailored blazer is an effortless throw-on which will elevate your jeans in seconds. Similarly, a slick button down blouse will give a professional, no nonsense feel – tucked in of course.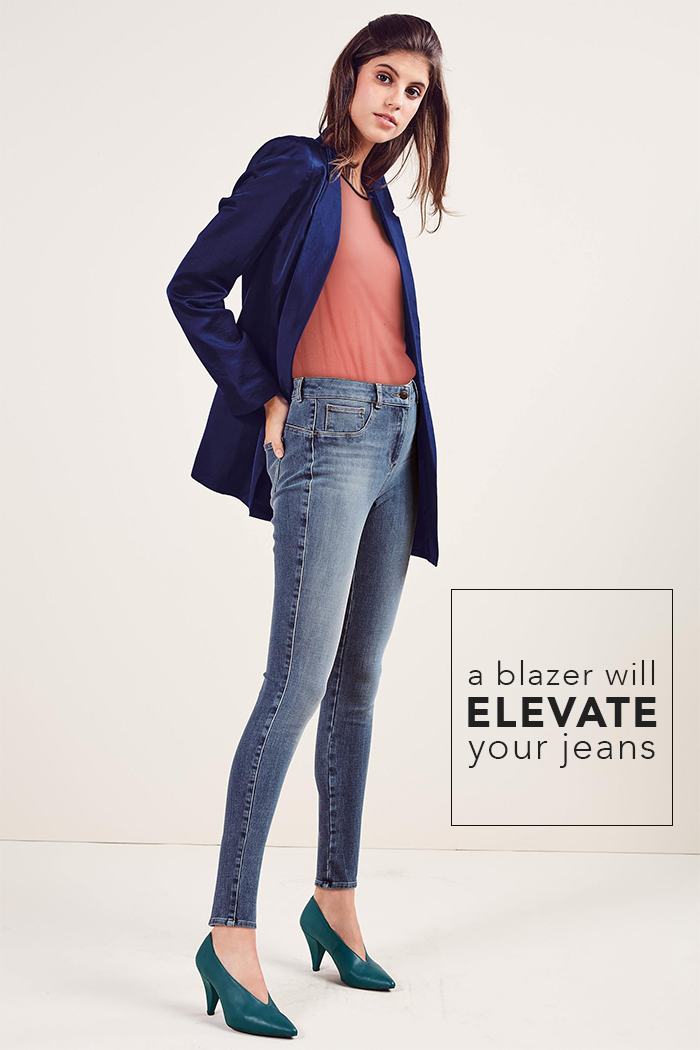 T o n a l   e n s e m b l e s   w i n   s t y l e   p o i n t s
If you want to be different, why not try an all-white ensemble with white denim? Granted, it's out there, but no one can deny you're anything but immaculately well put-together in a white blazer, tee and jeans. If you're not comfortable with white, try navy with inky jeans, or the ultimate failsafe – all black everything.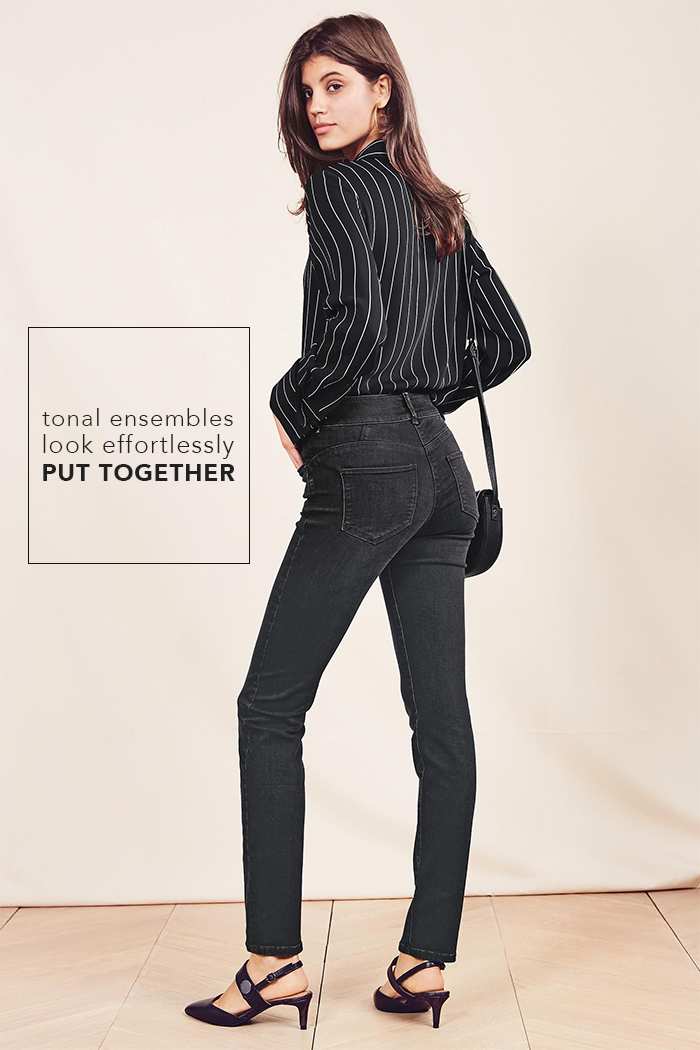 A c c e s s o r i s e
Treat your jeans as a blank canvas – keep the rest of your outfit minimal and use accessories to make a statement. Dress up a simple shirt and black skinny jeans with tassel earrings and a colour pop tote bag, or a leather belt with sleek hardware and strappy heels. With a dress, these accessories may seem a bit OTT for the office but with jeans, strike the perfect balance.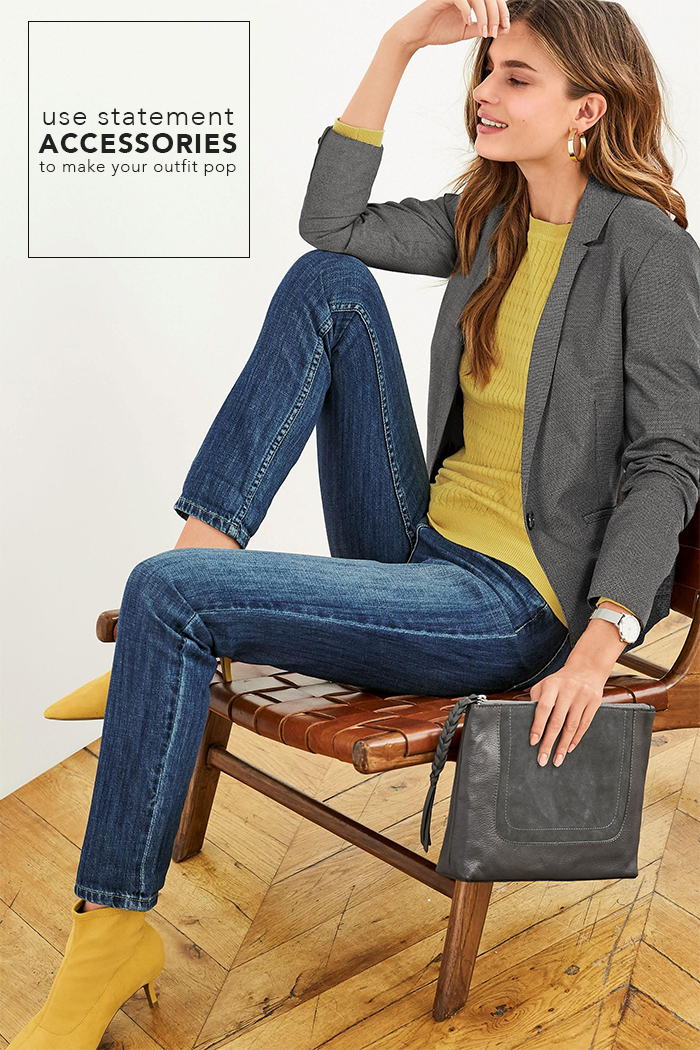 D r e s s   f r o m   t h e   f e e t   u p
Much like how a blazer counteracts the casualness of denim, standout shoes help take an outfit from zero to hero. Whether it's some simple black stilettos, a metallic boot or even some box fresh sneakers (read this post for tips; Dress Down Friday – how casual is too casual?), making your footwear the star of the show can achieve instant outfit elevation.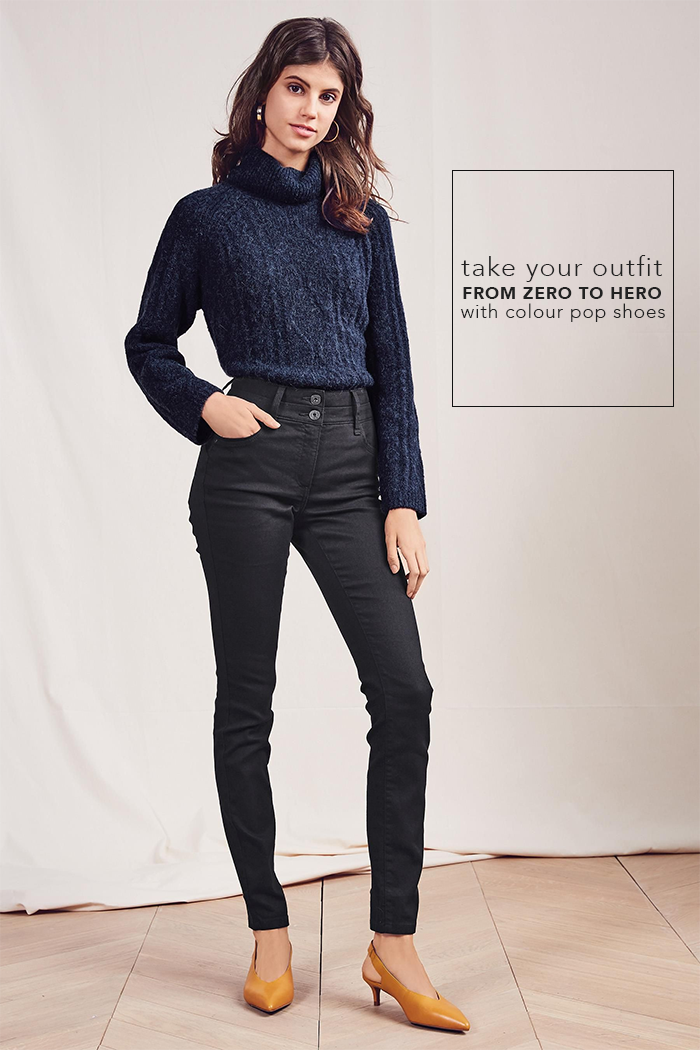 So take our advice and you'll soon wonder how you ever coped without jeans in your workwear wardrobe! Shop denim here. Already found your favourite pair of Next denim
? Upload a pic to Insta and tag #ShareWithNext for your chance to feature on our website.
You might also like