There's more than one way to skin a cat, and less disturbingly there's more than one way to incorporate texture into your current wardrobe. The summer season doesn't tend to conjure up images of knitwear (ok maybe it does in the UK), but trust us when we say that what your wardrobe is probably lacking are'nearly' knit textures! We're talking pieces that are *almost* knitwear but not in the traditional sense… Short sleeve t-shirts in nearly knit fabrics come in very handy when the day doesn't require a coat but the evening is on the chilly side. So to help better equip you for said scenarios, we've selected four knit tops to add versatility and style cred to your wardrobe.
---
First up to fill the hole that knitwear's non-summer-appropriateness leaves is this satisfyingly furrowed textured number. The retro vibes are strong, and refined in a way that soothes our lack of knitwear woes.
Equally soothing is a tee whose composition might have us feeling hot under the collar… if the collar weren't a crew neck and the item in question didn't have sleeves. While you can't really have a cardigan without arms, you can have an almost-knit tee that you'll love wearing in summer.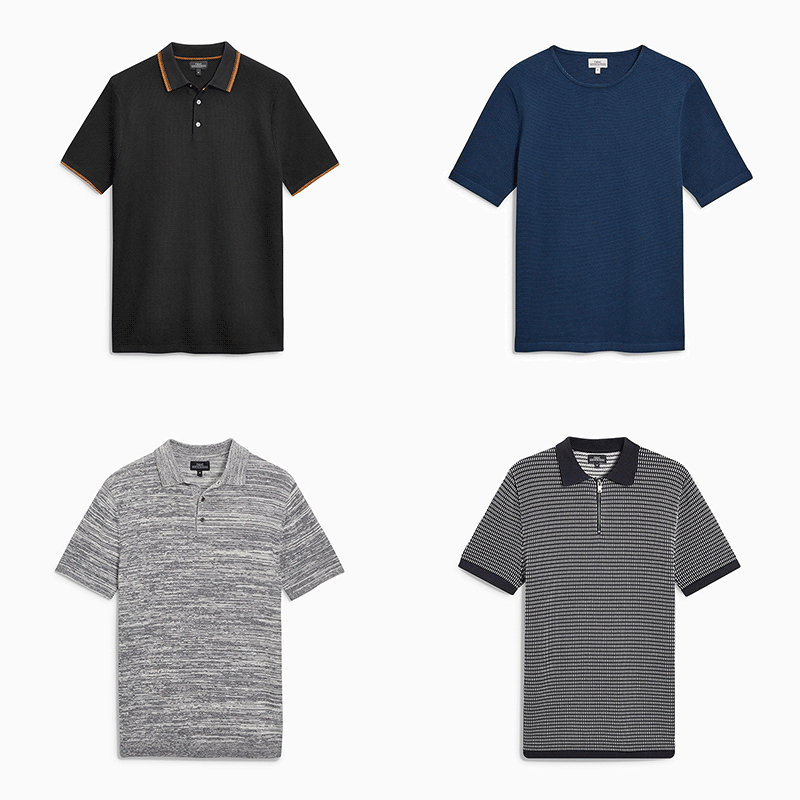 Marls are near synonymous with texture and combining this with another pseudo knit fabric means that, even at the time of writing, we've hit the order button. It also holds the title of being the only item we've ever desired that resembles white noise on the telly.
Inclusion of a zip neck makes our final option odds on for most fashion forward not-quite-knit. It's a mono masterpiece that nods to the current trend for cycling apparel – plus its high contrast colourings nails that 'standing out without engaging with eccentricity' look.
Found your solution to the summer knitwear conundrum? Tap through the images to shop straight from the blog then let us know @NextOfficial on Twitter how you get on!