Despite having a depressingly wet couple of weeks, we can't help but notice the fairer cousin of our favourite jeans peeping out from the depths of our wardrobe. Granted, horizontal rain is not conducive to
white jeans

wearing but with a welcome dose of sunshine today, there is hope for us yet. If you're ready to ditch darker denim in favour of spring-ready white – you've come to the right place!
---
F I N D   T H E   P E R F E C T   F I T
Finding the perfect fit is true of all jeans but as white is harder to hide behind than darker washes, it's important to find a fit that flatters you. If you're tall, a skinny or slim fit is ideal for lean legs. On the hippier side? A kickflare or bootcut will give you perfect proportions. For apple shapes, opt for bum-lifting cropped or skinny styles and avoid a super high rise. If this is your first foray into white jeans, the freshest fit you could choose is a 'mom' style which sits nice and snug around your waist and falls straight over your legs..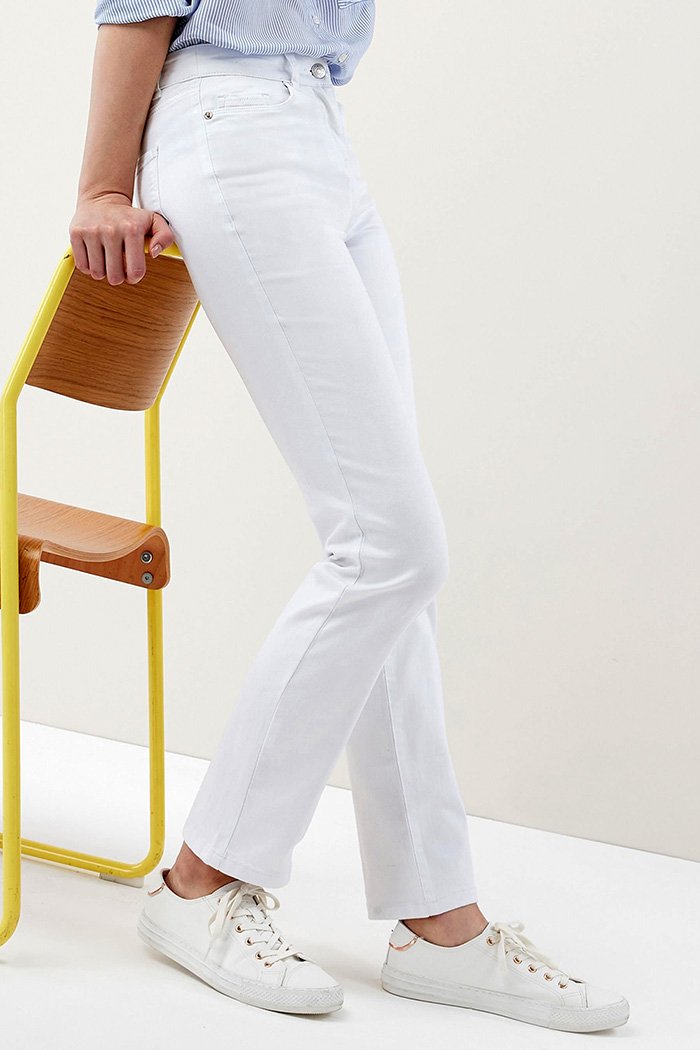 .
W H A T   E L S E   T O   W E A R
For white denim newbies, we recommend embracing colour throughout the rest of your outfit. If you're pale, you needn't worry as the colours will warm up your complexion. Where a jacket is concerned, choose khaki over black. Unless very deliberate, black can be too harsh against white for everyday wear. Complete your look with a pop of ochre on the feet and a neutral straw bag for summer-is-coming vibes.

I F   I N   D O U B T  ,   W E A R    S T R I P E S 
If your off-duty wardrobe comprises of stripes, white jeans are going to fit seamlessly into it. There's something about a stripy shirt or t-shirt that looks effortlessly put together with white denim. If you're heading out after work, dress things up with a neckerchief, strappy sandals and a blazer. Or make white jeans and stripes part of your off-duty attire with a slouchy sweater, your favourite trainers and a lightweight, colour pop coat.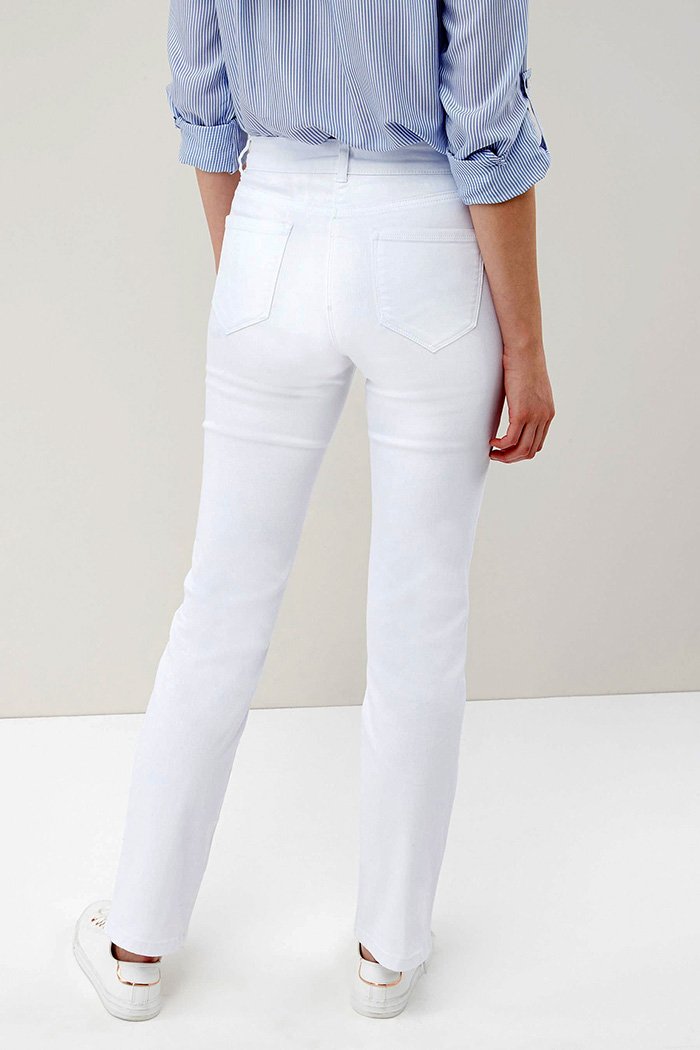 .
W H A T   E L S E   T O   W E A R
Nonchalantly tucked at the front, our slogan stripe tee is a must-have addition this season. The red accents give it a French feel which you can dial up with some matching lippy. To make the look more considered, try layering an oversize denim jacket over a lightweight wadded jacket and pull the hood out. When it comes to kicks, you cannot go wrong with a pair of Adidas Superstars – from casual to smart, they're versatile enough for all outfit combinations.

E M B R A C E   A   N E U T R A L   P A L E T T E
Prefer to save white denim for best? Try a white-out for maximum stand out value. Think white jeans, white top, white accessories. The lot. This look isn't for the faint hearted (or those with a tendency to spill things) however, it's the perfect statement-making outfit for a special occasion or night out. All white outfits tend to suit darker hair and skin tones but if you're on the paler side and blonde – don't fret… there's a simple solution below.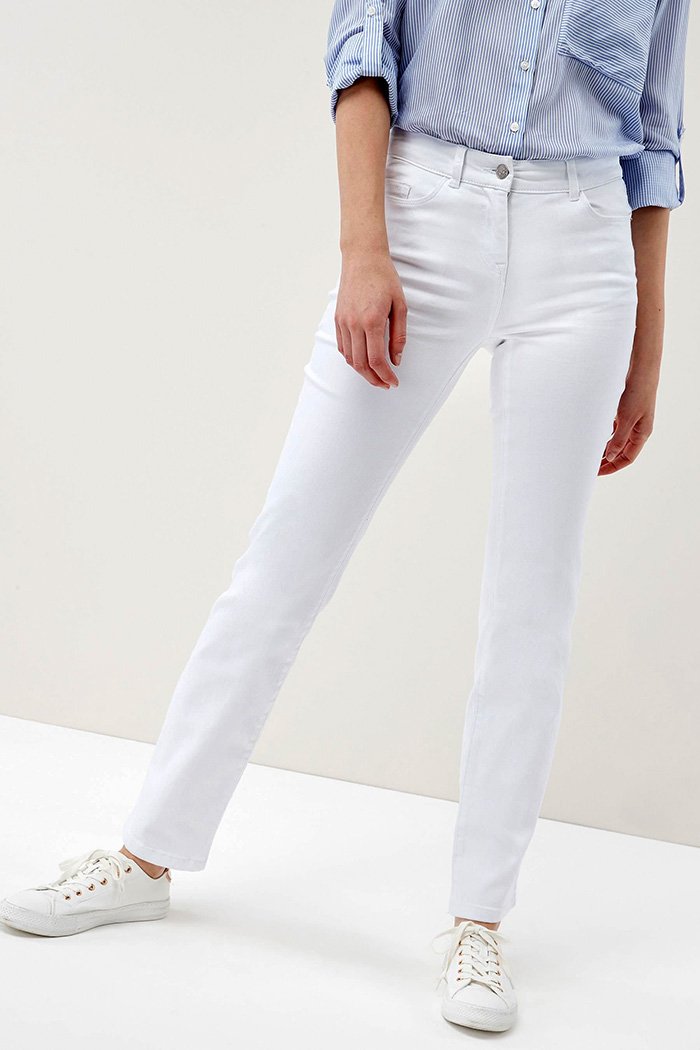 .

W H A T   E L S E   T O   W E A R
If the idea of an all-white outfit gives you the shivers, warm up with blush pink and a dash of tan. Millennial pink has achieved stalwart status after proving it goes with pretty much anything. Pairing it with white feels like a really fresh and feminine combination for spring. Go one step further with some of this season's must-have earrings – in dreamy pink resin and wood effect. Complete the look with a tan hobo and navy mules.

Have we convinced you to add white jeans to your shopping list? Find your perfect pair here. If you've seen something you like in this post, hover over the image to shop straight from the blog. 
You might also like