So what's jute? "Oh, well it's that… like… straw bit on espadrilles". Yes, but we're not only here to tell you what jute is, we're also here to tell you why you need to know about summer's must-have detail – and why it should be shaping the edge of your soles for the next few months. Every trend, over time, like a lava lamp, slowly spreads and morphs to keep itself refreshed, new and interesting. Think about how the cropped mens trouser, once only the preserve of tailoring now appears in various forms like – denim, with sports luxe drawstrings, smart and casual chinos, pseudo-fatigue pants and more. And that's where jute is heading right now – out of the established espadrille and onto the soles of all your summer footwear. Outside of our essential white sneak selection, almost no stone (-washed shoe) has been left unturned.
---
We've brought our four favourite options to the blog, each showing off a different corner of jute's newly extended family tree. Top left, for that tractor-to-trawler feel, the boat shoe gets the jute treatment in a way that surely couldn't look any more comfortable – perfect for pub garden pints in the sun. Equally sunny in sentiment, its sleek city-to-seaside cousin brings black to the table for the same reason the Parisians do (to look cool). Bottom left, not even the original espadrille escapes the clutches of jute – like a granddad that lives in Dalston, the high profile jute sole takes over more of the shoe, showing that although you've been around the block, you're a certified shoe-game insider. Lastly, if your wedding season is going to incorporate a fun, informal jaunt to the country, do it in jute-edged suede.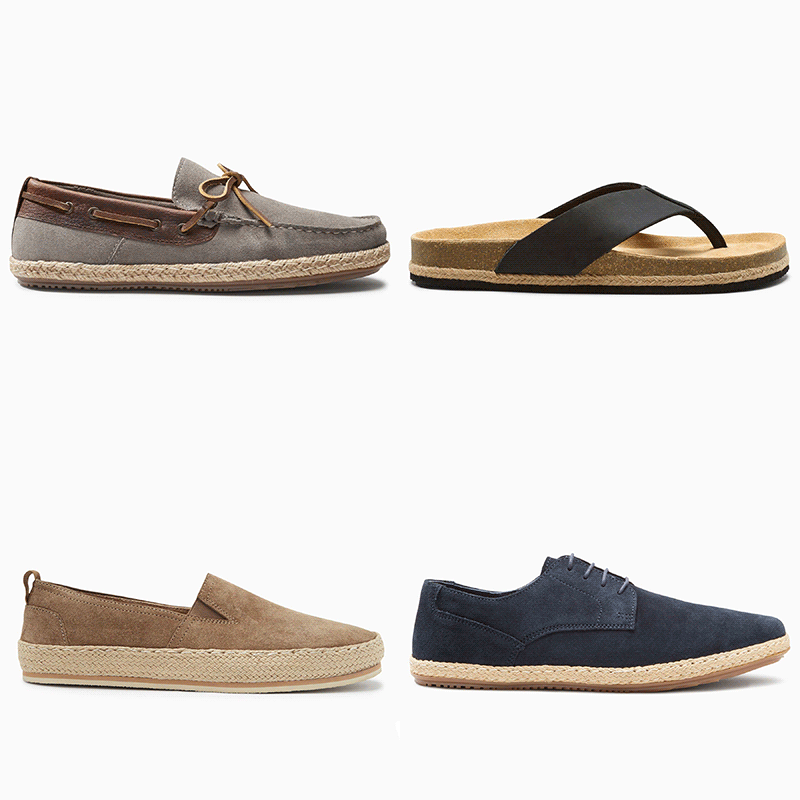 Are you in desperate need of updating your footwear collection for summer? Shop all men's jute shoes with NEXT DAY delivery when you Order by Midnight! 
You might also like