Current weather conditions aside, outfits centred around shorts are most guys go-to during summer. However, it's all too easy to discover your perfect pair and then continue to wear them to death. You might claim not to care, but there are only so many times you can be tagged on the 'gram wearing the same navy chino shorts before it starts to look lazy, so we've pulled together some other options you need in your summer short arsenal.
---
We're jumping in with jersey. Doooon't turn away just yet… you might be of the opinion that jersey bottoms are strictly for indoor use, but their enticing comfort can't be avoided al fresco any longer. Your ancient grey sloth-time sweatpants have been given an upgrade with textured fabric and zip pocket detail. Never has leisure-time softness looked so luxe. Dress them up with more formal items if you're worried they're too relaxed for your look.
Cargo shorts get a hard time. If you're thinking you've got enough already (or just that they suck) then here's our justification for these… their more refined details in pocket cover, shape and button combined with the most classic of shades mean they're truly best in class.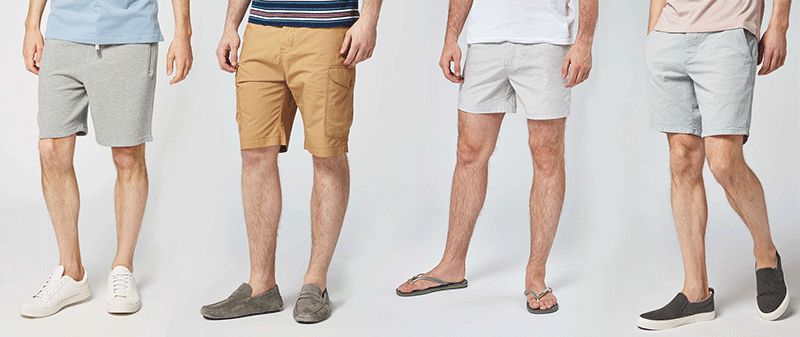 You're more likely to see marls on tshirts than shorts, yet it's this point of difference that make our Grey Marl Swim Shorts a versatile choice. In fact, unlike other shorts – they travel remarkably well from sea to bar thanks to their button, back pocket and rivet details. If it's multipurpose shorts you're after, these should probably go straight in your basket…
We're finishing up with texture again – and this time; the finest of fine stripes. From a distance they're the epitome of summer shades – an off white with hints of blue. As with the marl, they add interest when in combination with subtly shaded shirts. Click the tag on the pic and take a closer look at our number one pair!
Thinking it's high time to add a few more options to your shorts selection? Take a look at the full shorts range here, or if one of these have piqued your interest, simply click the image to shop straight from the blog. Taken a recent selfie in your fave Next shorts? Don't forget to #ShareWithNext on Instagram and tag @nextofficialman!
You might also like