Festivals friendly to little people are everywhere these days, whether it's established events catering better than they used to, or new counterparts set up just for tots and tykes. Alongside all the wet wipes, ear protection, tumblers and tracker bars there's another essential item that we hope you've considered. The band tee is an all-important part of the fashion fray most of the time, but at festivals – wearing your tribal colours becomes even more important.
---
For people at the earlier end of the age spectrum, depending on the musical education you've given them so far, their penchant for the more leftfield and loud will decide whether it's make or break for the band tee. Unless they're still small enough not to care..!
Starting with probably the most popular band tee of all time, seen everywhere as much for the magnificence of the Ramones logo as for their pacey punk. In longline fit and bright gold that's fitting for their always-at-the-forefront-of-progressiveness status (if not their actual aesthetic) – how many bands can you name featuring a bloke called Dee Dee?
The switcheroo of ACDC's front man always dressing as a child and your little one rocking an ACDC tee adds something extra special to the marl number up next. If you don't mind them running around screaming, "hiiiiighway to hell!" then you've probably found them a new wardrobe favourite.
If you're susceptible to an occasional bout of gin tears, then the now-departed stoic face of the world's favourite Dave may not be the right option for your little one's festival frolics. If you can turn and face the day, celebrating the man, the myth, the legend, however you pronounce his name – then passing his music onto little heroes in your life has a sweet sentiment we're ALL over – even if it could set off some waterworks.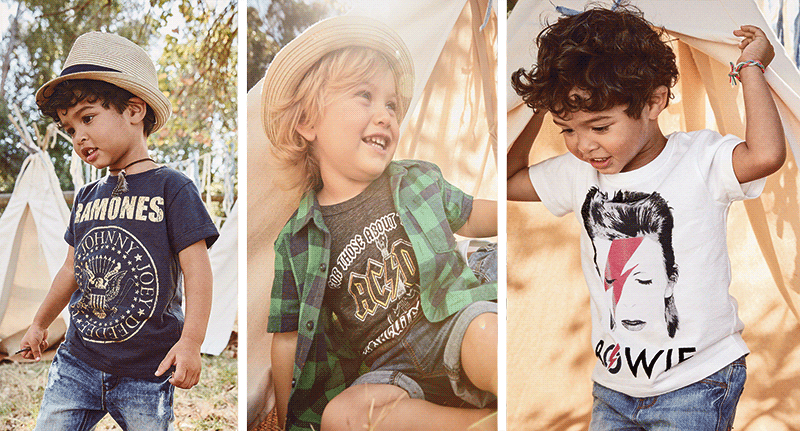 Tap the image to shop straight from the blog, then let us know which tee will be making it to a tent (or campervan!) at a small-fest with you! Tweet us @Nextofficial on Twitter, and if you and the fam are wearing Next – don't forget to tag #ShareWithNext in your Instagram uploads!
You might also like