Glastonbury pretty much marks the official start of festival season here in the UK and with the masses heading down to Worthy Farm this week, it's time to get the family festival-ready! No-one can predict the weather, but the great thing about festival dressing is that as long as you've got a cagoule and wellies – everything else should be focused on FUN. Read on for why this dress is our must-have this festival season and have a notepad to hand as we list the top 10 kid-friendly festi's to visit this summer.
---
One of the pre-requisites of festival dressing is to be bold and bright – there's never a better time to experiment with the little one's wardrobes than for dancing in a field with thousands of other music fans. The rules are… there are no rules – bar being comfortable and warm (a.k.a layers!), so take outfits that offer standout appeal (plus bright colours make them easier to find in crowd!). There are 3 reason we are TOTALLY obsessed with this Orange Embellished Maxi Dress… 1. It embodies everything we love about summer – particularly bright colours! 2. It features on-trend pom-pom detailing which, if we could, we would add to everything in our wardrobes. 3. It's a wonderful length meaning girlies can run around and play without feeling restricted or uncomfortable. Put simply – there are a lot of plus points to this zesty number!
Styling-wise, if we haven't hammered the message home enough already – go bold or go home! Festivals are not the place for pared-back ensembles, it's a time to unleash the crazy and print-clash to your heart's content – so choose multicoloured accessories like this EPIC bucket bag and these flower sunnies. We're big fans of wacky accessories (in case you hadn't noticed) and these furry slides will give her outfit major kudos. Now we're OBVS not suggesting wearing these in a downpour, but as long as it's sunny and dry – have these on hand to give her feet some welcome respite from wellies.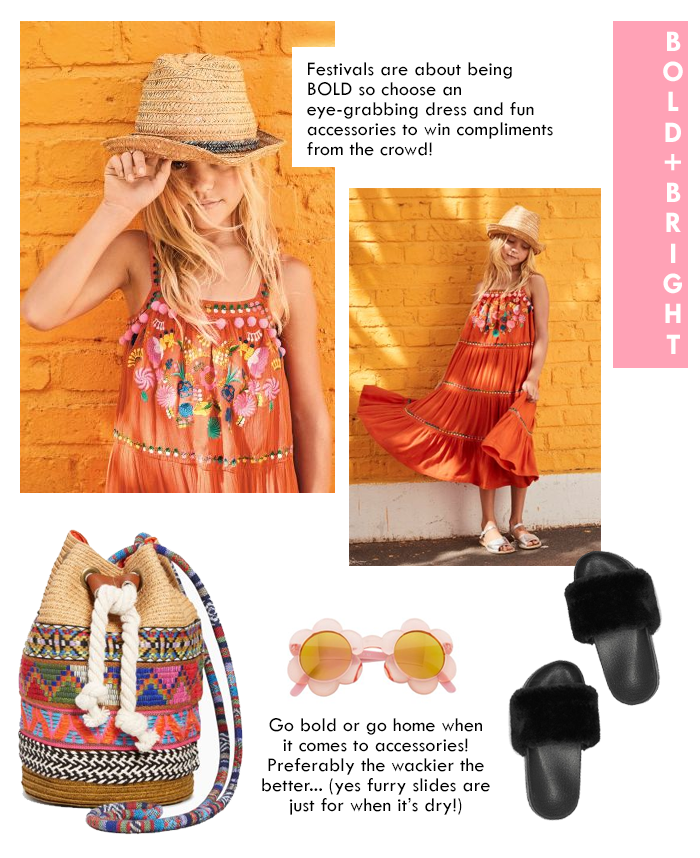 Are you planning to hit the kid-friendly festival circuit this summer? Here are a list of upcoming ones to add to your bookmarks…
You might also like