Winter is a tricky time for dressing up. Bitingly cold winds and horizontal rain are not conducive to a successful party outfit. Plus, it's looking good on the dance floor which counts (right?) and up until now, the principle of staying warm has been an afterthought. But not anymore… Snowflakes are literally falling all around us (…ok, outside) and it's prompted us to think a little harder about what outerwear options are available. Read on for 4 of our favourite grab-and-go coats that don't look ridiculous with your party outfit!
---
LUXE NAVY COATING + FLIRTY PRINTS
When the dance floor is calling, there's nothing better than a flirty playsuit. It's leggy without the risk of a wardrobe malfunction plus the sleeves keep you feeling and looking demure when you're throwing your favourite shapes. But when it comes to the inevitable club queue, you'll be needing something bigger than a leather jacket to beat the chill. Cue this effortlessly chic navy belted coat. The longer length means the tops of your legs are cocooned and the oversize collar can be flipped up for additional warmth. Forget about not mixing navy and black, it's time for change! We think it's an elegant combo, especially as navy takes the edge off the black.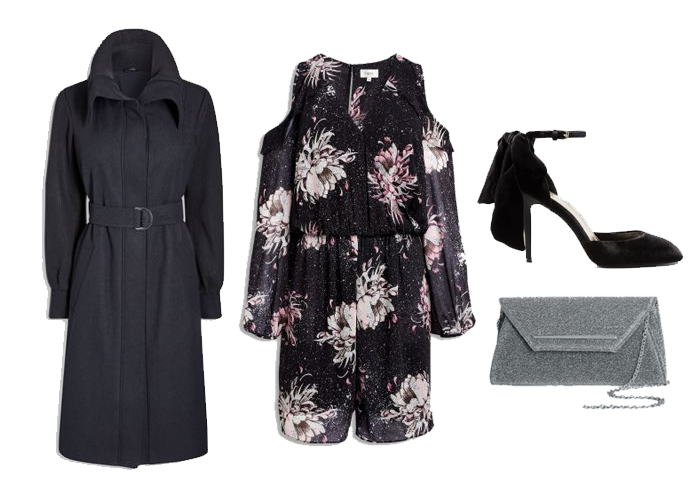 C A M E L   T E D D Y   T E X T U R E S  +  P O P S   O F  P I N K
For something a little lighter in colour, our camel teddy coat is a truly versatile piece that will see you through season after season. Caped over our sheer floral t-shirt and some high waisted tailored trousers, it provides a nice contrast to the wintry berry hues. Of course we couldn't resist adding a little pop of colour in too. The pink accessories really help draw out the embroidery on the top – a simple trick if you feel your outfit could do with a pep up!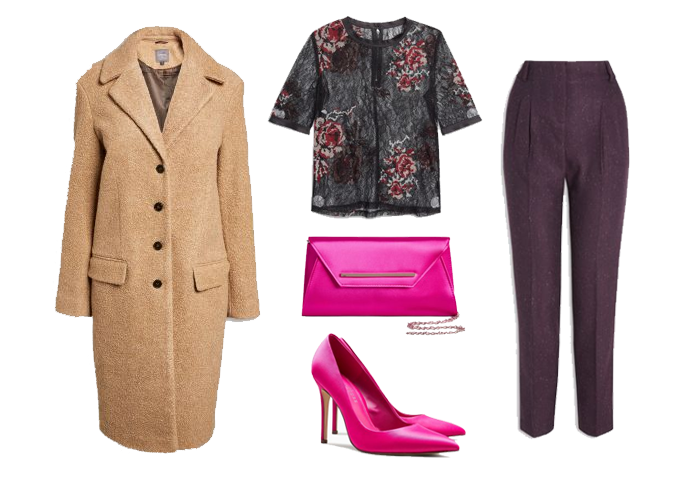 M O N O C H R O M E   C H E C K S  +  S T A T E M E N T   S I L V E R
If you tend to embrace your inner magpie in the run up to Christmas, this skirt needs no introduction. When you're off for drinks or dinner and a standard LBD just won't cut it, try experimenting with print and texture. A subtle nod to festive dressing, our green print shirt could be mistaken for holly and mistletoe (if you're far enough away…!) but has stalwart status as we head into 2018. Keep up the festive spirit with our glittery sock boots and cute clutch, then wrap up in this season's must-have outerwear option – the monochrome check coat! We're obsessed with this because it elevates even the most casual look and complements almost all outfit combinations. The belt enables you to create curves by cinching the waist and it'll keep the cold breeze out – perfect!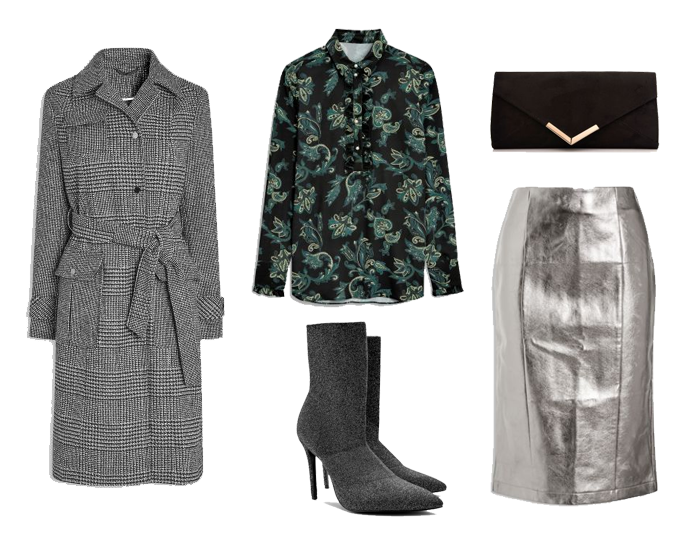 R A D I A N T   R E D   A N D   C L A S S I C   B L A C K
Red's popularity has soared in recent months and being a key festive colour – it shows no sign of stopping! Whether you're already a fan of red or could do with a few more 'pops' in your wardrobe – our duvet jacket is a solid investment piece. We don't need to convince you of its practical features (padding for warmth, fleece-lined pockets, shower resistant) but perhaps how it can be styled for the evening or smarter occasions… Try teaming it with black to start with. Our heart print dress is a fabulous option for the evening – shout out to the cute ruffle detail and feminine cuffs. Serious heels are required for maximum height and statement earrings for additional sass.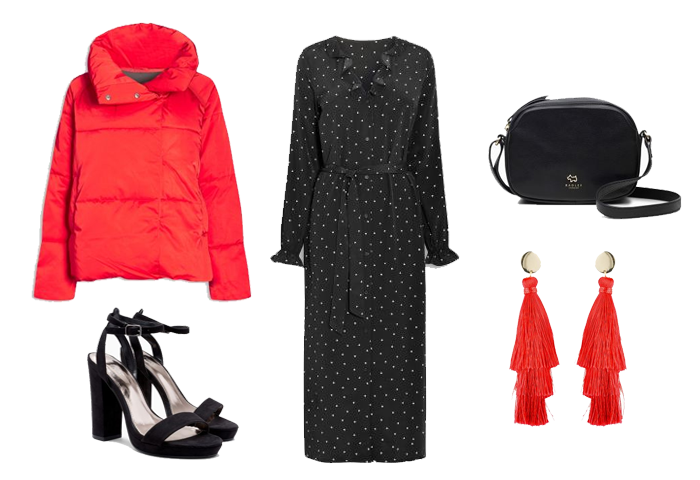 ---
Have you found your perfect night out coat? Or are you well accustomed to the taxi-to-club dash? Hover over the images to shop straight from this post and join in the conversation on Twitter!
You might also like