Still a bit bamboozled by the sheer volume of suiting choice in the world of menswear? We're back again with more suiting options for the sizzling sun. This time round, like a slow cook casserole, we've boiled a selection of our favourite down till only the richest flavours remain. We all know modern suiting is partial to pinching elements from different influences, and without a tie in sight, we're bringing you the 4 options we're most fervently coveting. The only other thing you need to pull them off is the pout we've pictured.
---
While 2 of these don't stray far from the usual cotton tree, the other 2 are linen; the distinguished gentleman's summer option. For weddings taking place next to open water (you know, where rowing happens and you can't help but emulate James Bond at afternoon drinks in the Caribbean) they are perfect. In less specific/more everyday settings, they augment your suiting selection by bringing welcome warm weather friendly variation. Plus the relaxed fit mean they fall effortlessly over any frame.
Bringing the light blue cotton option back for the second time in two blog posts (because it's so damn relevant), could almost slip under the radar with such different styling options. Taking a tie out of the equation lets the suit shade do more of the talking and it's a monologue we're very much intent on hearing.
In polar opposition to that sky blue thinking is the slim fit black option. Whilst it may not typically be considered a good idea (like defying your Mum and going out without your coat in winter), sometimes it's just what you want to do. If goths can live in places with 90% humidity 365 days a year, you can wear a black suit outside in British August – just be ready to pay the price. Extra advice for style martyrs would be investing in a decent pair of sunglasses – nothing will hide a sweaty face better than shades.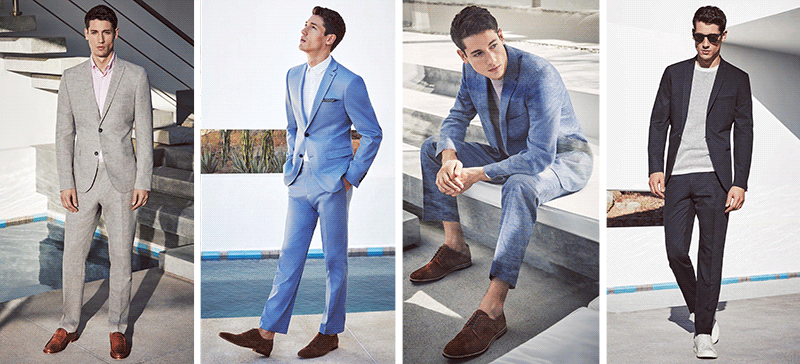 Tap through the image to shop all 4 suiting options straight from the blog, then let us know @NextOfficial on Twitter which you'll be slipping into this summer. And remember to check out @nextofficialman for more Next menswear everything!
You might also like