In the world of grown up menswear, the romper shape is in right now. Not universally loved, but it's undeniably an item with buzz (if you've not reacquainted yourself with Sean Connery's Goldfinger get-up, head to google now for a laugh). Inspiration obviously comes from the pint-sized people for which rompers were created and, unlike Connery – have us cooing at the cuteness. When it comes to real life seaside pursuits – most notably the family holiday, chances of spending time in the sun are high and to keep them safe, we've got just the diddy suits for the job! While we're into trendy gingham and the nautical-inspired looks that we're famous for, nothing beats seeing the kids' excited faces when presented with characters from their FAVE films and TV shows…
---
Keeping the kids safe in the sun is every parent's concern, so knowing their clobber provides adequate protection is definitely a comfort. When it comes to UVA rays, we can never be too careful. Reassuringly, a fabric rating of UPF 50 means they're able to splash around to their heart's content in the midday sun. Just remember to reapply the sun cream once they clamber out of the water!
For dudes with different interests, we've probably got a sunsafe suit that's spot on. Those out and about catching 'em all will love Pikachu printed all over them, but if the irony of an electricity producing Pokémon being underwater is too much, Mickey Mouse's first cartoon, "Steamboat Mickey" being set out on the water should satisfy sticklers. Carrying on the cartoon cause is our very own classic take on comicbook BAM and POW that are fitting for little ones charging around. For small Spiderman fans, whichever Peter Parker they're most into, the holiday shape spidey costume will be a beachside bullseye. Plus, for Batman, Peppa and more head here.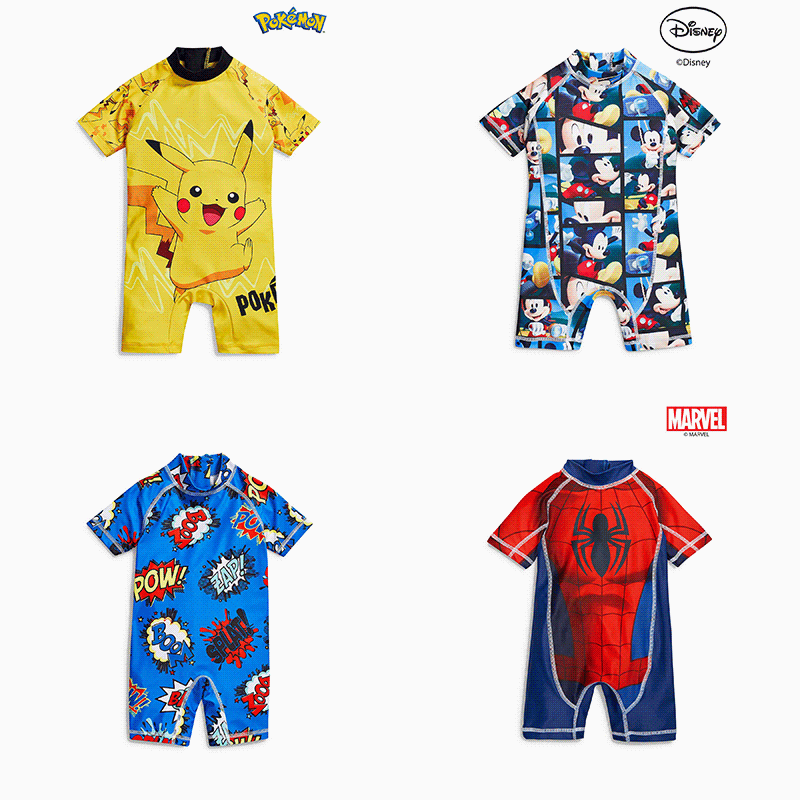 Found the perfect suit? Tap through the pic to shop straight from the blog, and then let us know on Twitter @NextOfficial.
You might also like