December marks the start of the festive season and with it comes rather a large to-do list, from putting up your Christmas tree to choosing your novelty knit in time for Christmas Jumper Day. 
A new novelty knit has become an annual necessity and it's essential you're quick off the mark when buying one. 

Though our Christmas jumper range is vast, the purchase window is small (

unless you wear it only for warmth in your living room with the curtains drawn). They also fly off the shelves (hangers) like hot cakes. If you still haven't got in on the action we want to make it clear to you that your choice is being eroded swiftly by each passing hour. Brian from the office might at this very moment be taking the last jumper  in your size… 
---
While it's true that Crimbo jumpers won't ever have the staying power of wardrobe stalwarts like character-developing biker jackets or shabby-chic faded baseball caps, it makes up for this in statement power. The star that burns twice as bright burns for half as long; It's better to burn out than fade away, if you're so inclined. Between siblings with shorter memories, they make for excellent hand-me-downs
Choice is key too. Dwindling variety aside, this seasonal sweater has rarely seen as many different options. For little people though, over whom you still exert executive wardrobe control, cute is the name of the game, and we all know cuteness is enhanced no end by a bit of novelty. Just don't flat out laugh at them…! Crushing this category of funny/adorable is this elfish number – as tongue in cheek as they come and a 10 on the scale of merriment inducement. It might even spur them on to be a little more helpful.
Let us know @nextofficial on Twitter how you'll be Christmas-ifying their appearance.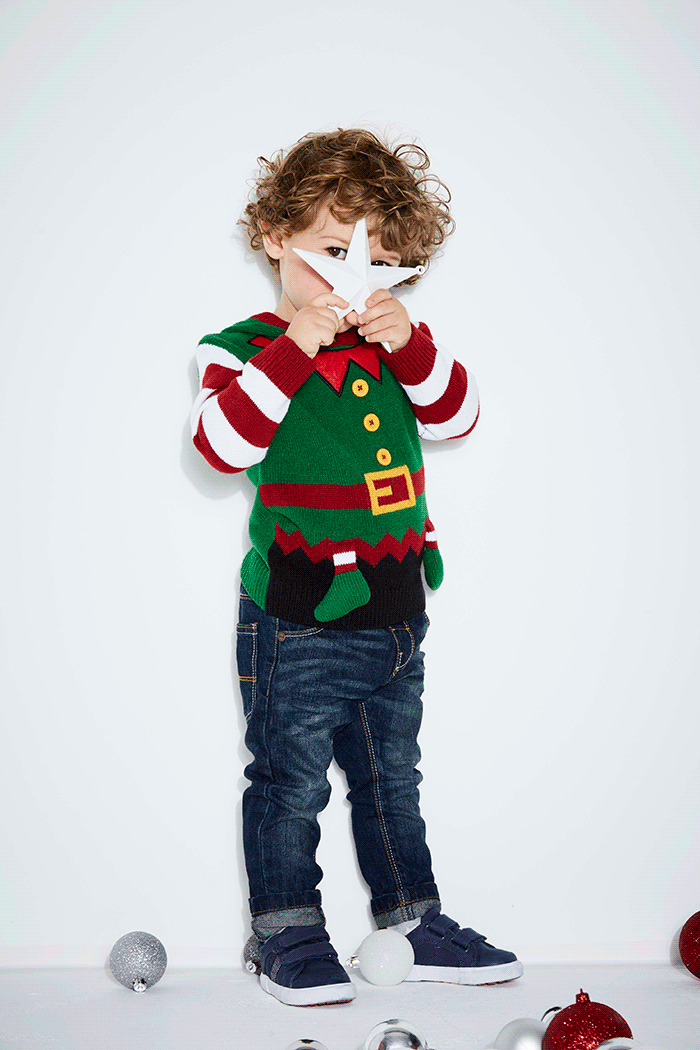 You might also like