Getting to spend proper quality time with the fam is the raison d'être of holidays once kids come along. For maximum fun, after instigating a phone ban, our next best piece of advice is to head here and order some matchy-matchy cuteness for a little and large pair accompanying you on your holibobs.
---
Nothing beats the feeling of a complete stranger asking where your clothes are from. Coming in a close second is when a loved one gets asked about clothes you've bought for them, and twinning-tee goodness is a cracking way you can all share the confidence kick. The best place for bumping into happy, friendly, chatty strangers is undoubtedly on holiday. Whatever your hotspot, the camaraderie engendered by having a couple of accidentally sunburnt extremities in common is the catalyst you need to help you get the compliments we all crave.
To that end, our three options are very holiday friendly. All printed distinctively to show the little and large congruity wasn't accidental, the divergent details mean you could get to day four without falling back on the same style twice. First up, for the flight from grey Blighty or keeping spirits up during any unfortunate dampness – the tees with super wavey print could only be more holiday-centric if they smelled of Daiquiri. We're turning the saturation down for tee pair numero dos… the first of the all over prints is summer-tee incarnate – like the trendy cousin of the Hawaiian shirt, its palm patterning can't be beat for beachside strolling. Our final option is, as far as we're concerned, the only thing we want to have to do with sharks when we're on our holidays; out of the water, 2D and printed small on eternally smart navy – the perfect outfit for the posh restaurant you blow all your remaining euros in on the last night.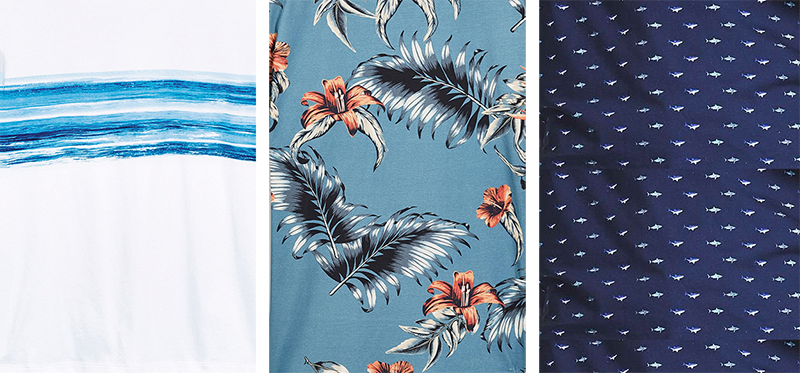 If concerns about your partner's enthusiasm for their holiday wardrobe are lingering, we suggest considering not packing anything else for them. There's only so much the Hugo Boss concession by the marina can accommodate replacements before the bank calls to confirm your card has been blocked due to suspiciously large foreign payments.
Once you've checked out the matchy-matchy tees here or shopped straight through the image – please share any super cute snaps with us @NextOfficial on Twitter or tag #ShareWithNext on Instagram. We can't wait to see them!
You might also like