Christmas day should involve an element of dressing up. Why not make what for many is already the most significant day of the year even more special? Typically, the older you are, the more certain your views on how traditional days should be spent are. Plus, if you only see Aunty Nora and Uncle Brian once a year and you look great when you see them, you're scoring a 100% outfit awesomeness record as far as they're concerned.
---
In our teenage years, we often associated things that needed ironing with school uniform – an unwelcome reminder we could do without during the holidays. But over the years, our opinion on formalities has shifted and now firmly resides in the 'smarter is better' camp for the festive season. Granted, upon waking and opening the first few pressies bleary eyed, we're still very likely to be committing fashion crimes. But unashamedly loud pyjamas are a pre-requisite of Christmas morning, so we're excused.
Under a layer of paper that we hope you'll be recycling, you've probably got a whole lotta clobber ready and willing to be adored. Items that would most likely make for a perfect Xmas day ensemble… Well herein lies the issue – what will you be wearing when you open this most useful of selections? The items you'd no doubt like to be wearing are the wrong side of the paper at this point SO… take note:
The simplest, most versatile route into something smart will probably forever be the oxford shirt. Whether it's for scrubbing up in front of the rellies or taking you from lunch table to local boozer – you'll always look smart in an oxford shirt. For something a little more seasonally specific, opt for a check featuring a little festivity. Think you might need a couple of emergency options? Head down to the shops ASAP – click here for store opening times!
.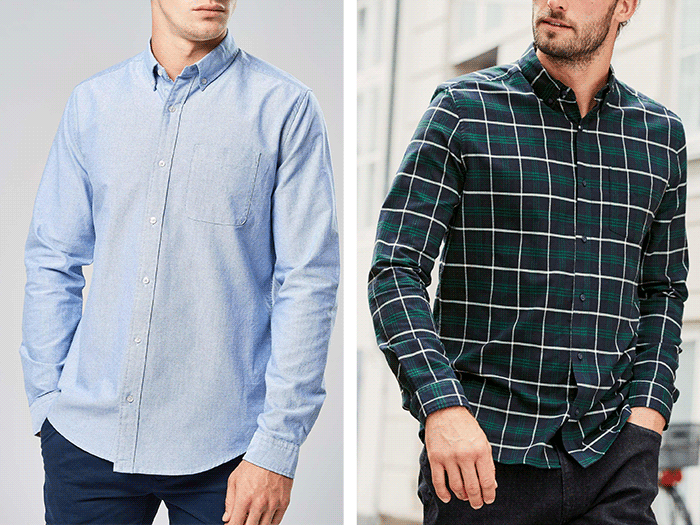 You might also like