Holiday season comes with endless benefits… time away from work to fully reset your body and mind (and boy do we need it), a chance to spend quality time with your family and of course – nab ALL those must-pack pieces to ensure your sun-worshipping wardrobe is POPPING OFF! Whether you're lucky enough to have booked a long haul hol, or are snatching a long weekend – we've pulled together the pieces you DEFO shouldn't be taking-off without…
---
1. When most people book their summer holiday, it's to sun soaked destinations where the likelihood of it raining is akin to the whole pigs flying thing. Us Brits need guaranteed sun. We sit at our desks for 49 (give or take) weeks a year, so our number one goal when on annual leave is spending as MUCH time in direct sunlight as possible. That said, it is important to consider outerwear options when jetting off. Something lightweight like a denim jacket is more than adequate as you can turn it into a slanket of sorts on the plane, then cape it over your shoulders when the mozzies start circling in the evening.
2. Mix and matching tops will make life easier. We often hugely overestimate the amount of clothes we'll actually wear when away for a week, so chopping and changing your tops and rotating a couple of pairs of bottoms is usually the reality. That said, high temperatures inevitably mean a lotta sweating (yum), so packing numerous camis or tees you can wear once then put straight in your 'to be washed' pile is our preferred option.
3. It goes without saying that swimwear is a pre-requisite of holidaying but be sure to pack a few different options. Firstly, because if you wear one and it's still damp the next day… well, eww. And secondly, you'll have very definite tan lines if you don't switch up your day-to-day swimwear silhouette.
4. A couple of sandal options are also necessary – one pair you can wear to the beach and another you can wear in the evening. Alright, we know you'll take 5 options for beach and 5 for the evening, but IF you're trying to streamline your packing list – take note: make sure you choose easy-access footwear for the beach. There's nothing more annoying than tackling 5 buckles or an extravagant ankle tie when you're covered in sand and simply want to go to the toilet. For the evenings, we recommend a flatform mule as it gives you a bit of height without being all-out 'partywear'. If your holidays normally involve some walking, take lightweight canvas shoes or trainers that will keep your feet cool while giving your arches a bit of support!
5. Lastly, where accessories are concerned – a hat, 2 pairs of sunnies (in case you sit on one) and a cross-body bag will see you through your vacay in effortless fashion. Pro tip: take a tote bag too as this can be used to transport your towel and 2 litre bottle of water everywhere you go!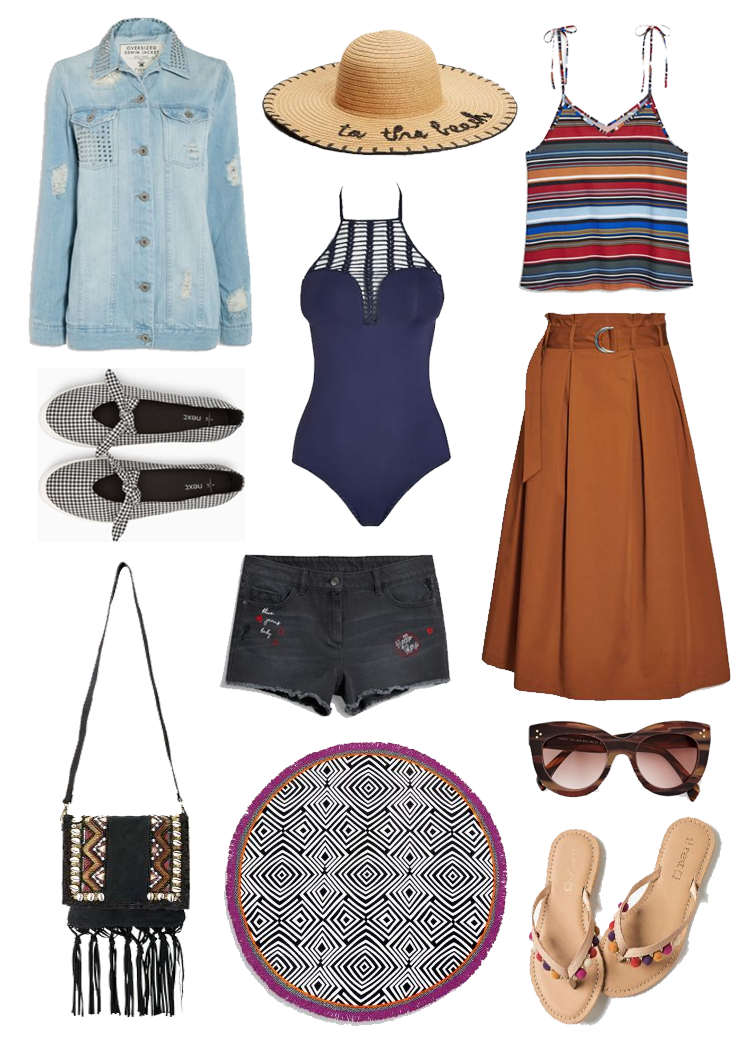 If you're loving our holiday selection, hover over the image to shop straight from this post – OR, if you simply can't decide – head to our one-stop Holiday Shop for ALL the outfit inspo you can need. 
You might also like