British summertime is synonymous with festivals… Is there a more liberating feeling than setting up camp in a field for a few days with your mates and dancing along to your favourite artists and musicians? Quite frankly, no. Whilst there's much more to festivalling than what you wear, clothes do inevitably play a part – especially as these moments are immortalised in photos, only to become treasured memories. So we're here to help compile your packing list, from must-have footwear to rain-friendly outerwear, read on for the low down and hover over the products to shop…
---
"A basic amount of common sense is required when deciding what to take…"
Packing the perfect festival bag can make the difference between

only

having the pants you're wearing and being the friend who's thought of

everything

. A basic amount of common sense is required when deciding what to take. Write a list, compare notes with your mates, don't turn up unprepared. 
It's fair to say that UK weather is

super

unpredictable. It can switch from almost-too-hot-to-bear sunshine to torrential rain in minutes. Pack for

all

eventualities. We LOVE this Cropped Packaway Mac – it's pretty and practical, plus it smooshes right down so won't be cumbersome to carry in your bag. Another festival favourite is the denim jacket – it's hardwearing and gives your look some edge. 
Mastering the art of looking good and being comfortable is something that requires careful consideration. Take fun staples that you can layer up and don't mind getting dirty. Forget anything which needs dry cleaning. A cute throw on like this Red Stripe Broderie Dress can provide the perfect base to your festival look, worn with wellies and a hat in the day or layered up with leggings and a jumper for the eve.
If you're lucky to have sun forecast, it might be worth taking a swimming costume or bikini. Both can be worn with denim shorts. Plus, you never know – if a heatwave is on the cards, you'll be all set for sunbathing (just don't forget the sun lotion!).
M U S T    P A C K    P I E C E S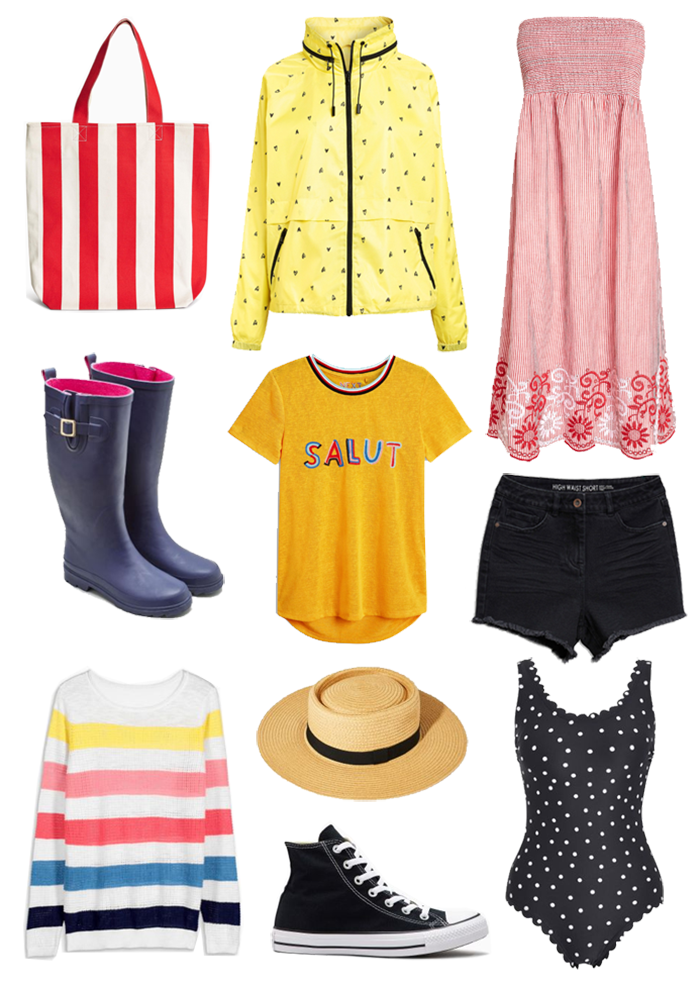 Packing your festival bag? Browse our summer collections and enjoy NEXT DAY delivery when you Order by Midnight. Or, if you've seen something here you want now, hover over the image to shop straight from this post.
You might also like