It's no surprise that during the summer months, there's a real shift towards bright white bedding. We want our bedrooms to represent a light and airy oasis of calm – basically anything to counteract the inevitable stuffiness of sticky summer nights. So we've selected three of the best white (or at least light) bedding sets to help you get the most comfortable zzz's possible!
---
Firstly, if Mother Nature is reading – please don't mistake this for us complaining about the weather – we're just simply not equipped for sleeping properly during summer, but we.will.learn. Getting a good night's sleep in winter is definitely something we take for granted. No second thought is taken as we settle down in fleecy pyjamas, a dressing gown AND electric blanket – but when the temperature doesn't drop below 20C, it's like we've forgotten what to do… getting comfy is nigh on impossible!
Though we often end up sleeping on top of our duvets during a heatwave (unless you've got a really good fan enabling you to get under the covers), then swapping from dark colours to light will instantly give your room a cooling feel. First on our list of must-haves is this White All Over Waffle Bed Set – the ultimate cosy retreat for 8 hours of bliss! White waffle bedding is a serious home trend too this season with interior lovers opting for neutral shades and natural materials to achieve the perfect pared-back palette.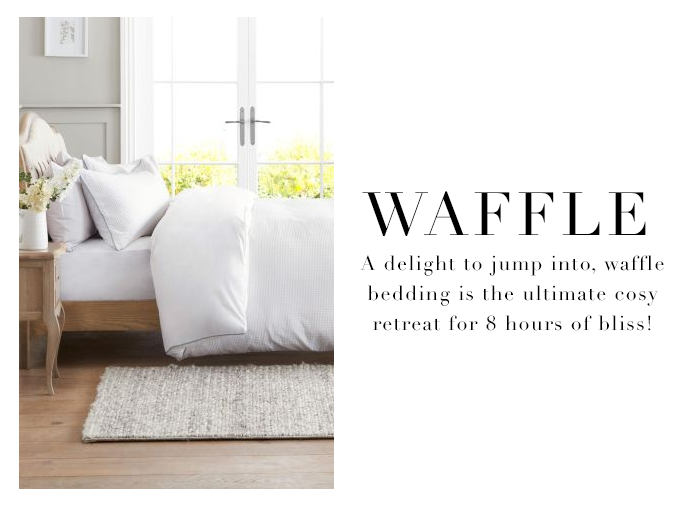 For the ladies reading this, raise your hand if your wear fake tan? Yep us too. Therefore white bedding is probably not our friend – unless we're a) prepared for endless laundry or b) feel slightly gross at the prospect of sleeping in an orange pit BUT really dig our healthy glow upon waking each morning. If you want to avoid this conundrum altogether, why not consider opting for a still-light but not as white faded floral linen? This Country Luxe Floral Bedset gives you the best of both worlds with a feminine-without-being-overtly-girly floral on one side and a sateen grey on the other. Plus the 200 thread count makes it suuuper luxe!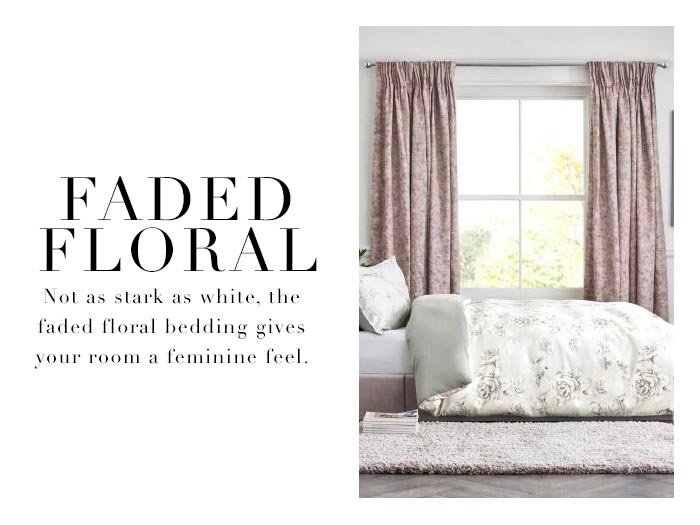 Last up, this Brooklyn Map Print Bedset is a great compromise if your hubby is quite vocal about your sleeping quarters being unisex. The light but far from basic design will provide a focal point without detracting from the rest of your décor. Of course we're visualising it amongst soft greys, raw materials and greenery for an Instagram-friendly set up but you could add pops of colour through scatter cushions and other decorative accessories.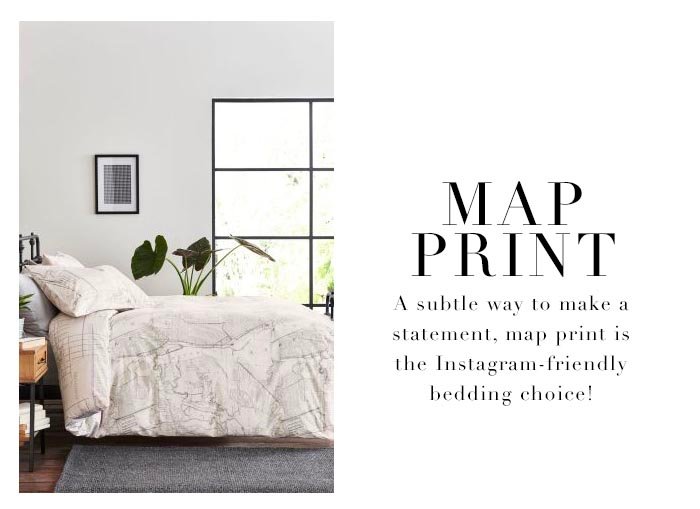 Fancy adding one of these bedding options to your basket? Simply hover over each image to shop straight from this post or check out our bedding collections here. If you don't want the interior inspo to stop there, check out what else we've been discussing on the blog here or head over to Pinterest to see what's ticking our homeware boxes this season! 
You might also like